Commonwealth Games: Medals not the full story as Scottish swimmers excel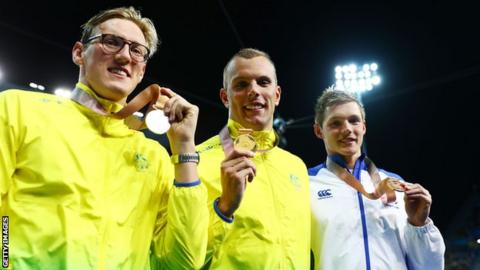 2018 Commonwealth Games
Venue: Gold Coast, Australia Dates: 4-15 April
Coverage: Watch live on BBC TV and Red Button with extra streams on Connected TVs, BBC Sport website and app; listen on Radio 5 live; follow text updates online. Times and channels
A Commonwealth Games, just like any multi-sport games, can sometimes be reduced to an unseemly medal count, a frenzied numbers game where the actual excellence of what went on is not given a proper airing because we're all too busy counting up the gold, silver and bronze and wondering where it ranks with Glasgow or Delhi or Melbourne.
Are we accumulating the hardware at a quicker or a slower rate? How many did we have at this point four years ago, eight years ago, 12 years ago? We are obsessed with where the next medal is coming from so we can chuck it on the pile with all the others. How about pausing for a second and appreciating things just a little longer?
Duncan Scott won bronze in the 200m freestyle. It almost felt like a disappointment. Scott said he had "mixed emotions" about it, but also said that once he'd had a few minutes to think and, perhaps, talk to his coach he might feel differently. His immediate emotion was neither one thing nor the other. He was in swimming no-man's land. He was cast into sporting purgatory.
You would hope that Scott has started seeing this for what it was - an excellent performance in a field of champions that adds fuel to the argument this 20-year-old is something special. Much of the Commonwealth Games is open to legitimate criticism about the quality of the sport, but not in the pool. The pool is largely exempt. A lot of who we see and what we see is world-class and Scott belongs in this company now.
New wave of Scottish swimmers
A bronze medal, but this bronze could be worth a couple of golds in other, less competitive, sports at these Games. In the heats of the 200m freestyle, Craig McLean obliterated his own lifetime best performance, but such was the thunderous nature of the competition, the 19-year-old didn't make the final.
In the rush for medals, McLean's landmark will get overlooked by all bar the swimming fraternity. It shouldn't. Excellence can't always be measured in medals and nothing else. That's a pretty one-dimensional way of looking at things. McLean swam wonderfully.
Scott got beaten by an Olympic champion in Australia's Kyle Chalmers and another Olympic champion in Mack Horton. He beat another Olympic champion in Chad le Clos and beat James Guy, who also finished fourth in this race at the Olympics in Rio two years ago. He's 20 years old and is the living embodiment of the new wave of Scottish swimmers, the young guns who have no fear.
When he qualified fastest for the 200m freestyle final he had the air of a boy who had expected it to happen. Not arrogance, just confidence. There's a difference between the two. Scott knew how good the other guys are. He also believed, really and truly believed, that he was good enough to beat them. The reality that, on the night, he wasn't hit him hard in the immediate aftermath.
But there was something joyous about his confusion, his struggle to express how he felt. The thing about Scott - and we can add the Glenrothes-born, Florida-based Mark Szaranek to the same heady mix and maybe McLean and others, too - is that it appears his brain is wired differently. He looked across the lanes in that 200m free final and saw Chalmers, Horton and a third Olympic champion in Chad le Clos and reckoned he had their number.
Not this time, but maybe the next time. Youth is on his side. We may not have heard Flower of Scotland being played or the Saltire being raised but we'll hear plenty from Scott in the years to come.
For Szaranek, a silver medal behind the Aussie wunderkind, Clyde Lewis. Or, to be accurate, just one of the Aussie wunderkinds. Szarenek is 23 and is improving quickly on the college programme in the University of Florida. He's another with a mentality that struggles with the concept of taking joy from second best. "Getting beat is getting beat," he said. "It's a shame I didn't win, but there's always next time. I'm still learning. In the future I'll get it right and put in a winning performance. It was a shame it wasn't Flower of Scotland playing, but for now, I'll take silver."
A third medal came Scotland's way at the end of the night and a first in the 4x100m relay. It was an all-time first. Scott McLay, 18, helped get the team through the semi-final. McLean, too. To borrow some imagery from the football field, Scotland keep hitting the crossbar when it comes to their pursuit of a first gold in the pool, the tally now coming in at three silver and two bronze.
'There are kids snapping at our heels'
They're performing, though. Interesting things are happening. A new and bold generation appears to be emerging. How classy it was of Scott to salute McLean's lifetime best only seconds after qualifying for the 200m freestyle final. How classy to hear Ross Murdoch champion young Archie Goodburn as a symbol of the gathering strength of Scottish swimming. "There are kids snapping at our heels," said Murdoch, a veteran at 24.
Hannah Miley, at 28, is the veteran's veteran. Scottish swimming has been gifted not just a star but the greatest ambassador for the sport they could possibly have hoped for. Nobody knows how much longer Miley is going to carry on, but her love of what she does shines through and it's inspirational. You can readily imagine a young kid listening to Miley talking with love and intelligence about what swimming has given her heading straight for the pool. This is a sport on the up.
It's easy to be blinded by the bling of medals, particularly gold medals. They're always a big story - and they may yet come for Scotland - but they're not always the whole story.