Commonwealth Games: NI boxers Walker and Walsh reach quarter-finals
Last updated on .From the section Commonwealth Games
Northern Ireland boxers Kurt Walker and Aidan Walsh have both reached quarter-finals at the Commonwealth Games.
Lisburn bantamweight Walker beat Australian Jack Bowen on a 4-1 decision with welterweight Walsh earning a unanimous win over Pakistan's Gul Zaib.
Walker will face Lesotho's Moroke Mokhotho on Tuesday with Walsh taking on New Zealand's Leroy Hindley in his last-eight bout on the same day.
Swimmer Danielle Hill finished eighth in the women's 50m freestyle final.
The 18-year-old's time of 25.56 was 0.24 seconds faster than her semi-final and left her 1.30 seconds behind Canada's bronze medallist Taylor Ruck.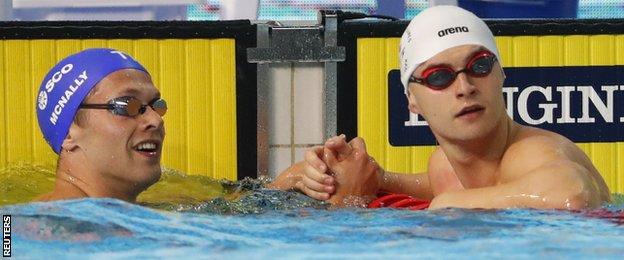 Ferguson reaches second final at Games
Hill's team-mate Conor Ferguson has qualified for the 50m backstroke final after placing eighth in the 100m backstroke final on Friday.
Ferguson clocked 25.79 in his 50m backstroke morning heat and improved that to 25.60 in his semi-final as he qualified fifth fastest for the final which will take place at 12:26 BST on Sunday.
Jordan Sloan was 15th in the 100m freestyle after finishing eighth in his semi-final.
Sloan's semi-final time of 49.88 seconds was 0.16 slower than his morning heat mark when he was 12th fastest with his team-mates David Thompson (50.22) and Calum Bain (50.47) finishing 21st and 22nd.
Weightlifter Emma McQuaid was fourth in her 63kg event with gymnast Rhys McClenaghan 10th in the all-round final.
Newry-born McQuaid was competing in the 63 kilogram division as her total of 182 left her 24 kilos behind South Africa's bronze medal winner Mona Pretorius.
McQuaid was delighted with her performance after targeting a top-five finish.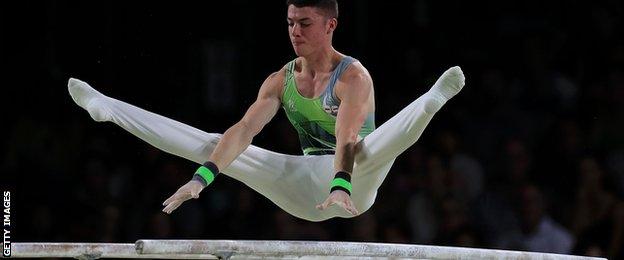 Competing in the all-round men's gymnastics final, McClenaghan posted the best pommel horse score of 15.050.
While Olympic pommel horse champion Max Whitlock was not involved in the all-round decider, McClenaghan's score bodes well for Sunday's pommel horse final.
Ewan McAteer received a late call-up for the all-round gymnastics final and finished up in 18th spot with his best score a vault of 14.000.
Track cyclists Lydia Boylan and Mark Downey had to settle for 11th and 12th places in their track events on Saturday.
Boylan said she was "a bit disappointed" after her finish in the points race while Downey, a triple winner in the World Cup series, never really got into contention in the scratch race.
Both Downey and Young have other events at the Games.
Marc Potts and Xeno Young did not finish the scratch race.
Northern Ireland's disappointing bowls campaign in Gold Coast continued as men's pair Ian McClure and Gary Kelly exited following a 21-8 defeat by Wales and women's single Catherine Beattie also bowed out.
Beattie needed to beat world number one and gold medal favourite Karen Murphy to keep her hopes alive but the Australian clinched a 21-17 victory.
The Men's triples and women's fours earned wins but their hopes of qualification for the knockout stages had already been extinguished.
Simon Martin, Martin McHugh and Andrew Kyle beat Scotland 16-14 with the women's four edging out England 15-14 for their only win in the group stage.
Northern Ireland's netballers remain without a win after losing 49-35 to South Africa on Saturday.
After their opening 94-26 hammering by hosts and number one seeds Australia, the Northern Irish were more competitive in Saturday's game but the South Africans backed up their world ranking of fifth to defeat Elaine Rice's eighth-ranked team.