Commonwealth Games: Scot Vicky Glover's historic story of redemption

By Tom English
BBC Scotland on Gold Coast
Last updated on .From the section Commonwealth Games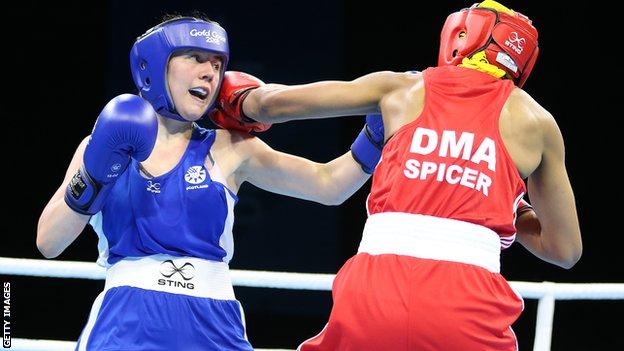 2018 Commonwealth Games
Venue:
Gold Coast, Australia
Dates:
4-15 April
Coverage:
Watch live on BBC TV and Red Button with extra streams on Connected TVs, BBC Sport website and app; listen on Radio 5 live; follow text updates online.
Times and channels
The movie studios out in the Gold Coast suburb of Oxenford have seen a few things over the years.
Johnny Depp in Pirates of the Caribbean, for instance. The Rock in San Andreas. Nicole Kidman has filmed here. Margot Robbie was here just the other day. Throw in Scooby-Doo, Power Rangers and Dora the Explorer and you get a picture of a place that's buzzing.
There are nine sound stages and the boxing is taking place in sound stage five. Near the entrance there's a sign that says 'Silence', which was kind of ironic given that just after midday the auditorium filled up with the Scottish boxing team who would not be silenced in their support of their team-mate, Vicky Glover.
This was not a story for the big screen, but it was history made all the same. Glover, 18, became not just the first Scottish woman boxer in Commonwealth Games history, but the first winning Scottish woman boxer in Commonwealth Games history. She was half the age of her opponent, Valerian Spicer of Dominica, and had about half the reach, but she beat her on a split decision.
Glover called it "an amazing feeling that I can't even describe - I feel like I'm on top of the world". As descriptions go, that was a good one. And there was more.
"She was a tough opponent and she knew what she had to do to beat me, but I've been working on that stuff in training and I dug deep," Glover explained. "I just had to out-smart her. I fight a Canadian next. One more win and I have a medal. My family couldn't make it over, but they'll be watching on telly back home. They'll be buzzing. They'll be more buzzing than me."
Fifteen months ago, Glover was in an entirely different place. The idea that she would get her life together to this extent would have seemed impossible back then, when she took a wrong turn and ended up in all sorts of trouble. Her back story is quite something and it shines a spotlight on the redemptive qualities of sport.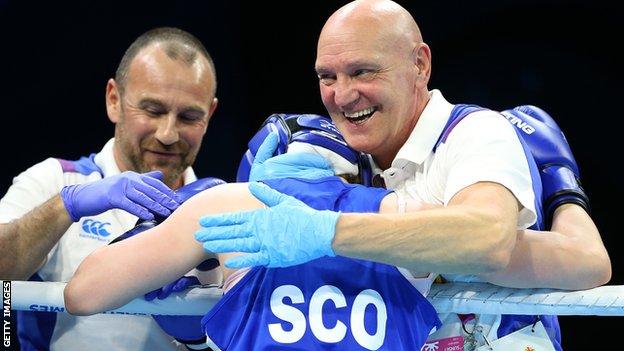 In January last year there was an incident in a Rutherglen underpass. Glover, put simply, lost the plot. It's unclear where, exactly, she got the baseball bat from, but what was beyond question was that she used it on two guys who upset her. Then she took it to a white Ford Fiesta into the bargain.
She pleaded guilty to assault and got a 200-hour community payback order. She cut people's grass, she trimmed hedges, she painted houses and if somebody was in need of a furniture removal girl for a house move, she picked up an end of a couch and headed for the van.
"Vicky had been in trouble and had gone off the rails," said her coach, Stephen Forsyth, recently. The details of the incident are immensely difficult to reconcile with Glover's persona.
She's bright and friendly and tiny. She's just over 5ft 2in. "When I tell people what I do, they go, 'no way, you're too wee to be a boxer. - you're never a fighter'.
"There's a big guy here at the venue who won't believe that I fight. 'You're too pretty,' he says. It's funny. It's just a great experience.
"Last year, I definitely wouldn't have said I'd be here this year. I'm really proud. It's a privilege to represent Scotland on the big stage and the support from all the boys in the crowd spurred me on."
'She had her Scottish porridge'
Mike Keane, Scotland's head coach, has been telling anybody who cared to listen that Glover was on the way up, that there was something about her that gave her a chance.
"She's brand new," said Keane, after the fight. "She's on the ascendency. All the extra training and all the coaching is coming together.
"She's had bother, but that's behind her. She was young, she was maybe mixing with the wrong ones and she's turned it around. She's found something in her life that's taken her away from the other things. She's totally focused on boxing and wants to go all the way."
What pleased Keane about her performance was her tactical savvy. "Vicky's a tremendous puncher but she had to out-box and out-manoeuvre her opponent instead of using power," he said. "She's still got the power on the back burner. It's still there. But she's not had to use it this time.
"This is incredible experience for her. She was nervous yesterday and we were worried that she mightn't get a good night's sleep, but she did and she got up this morning, had her Scotch porridge oats, and was ready to go."
Stephen Newns, the young welterweight, was also on the bill and he, too, won his bout. Newns is full of manic aggression and will take a bit of beating, but the standout in the session was Glover, the girl who found her way and created history.