Commonwealth Games: 'Fearless Duncan Scott an exhilarating prospect'

By Tom English
BBC Scotland at the Gold Coast Games
Last updated on .From the section Commonwealth Games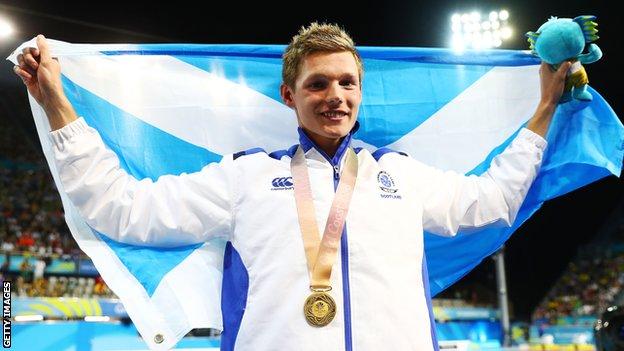 2018 Commonwealth Games
Venue:
Gold Coast, Australia
Dates:
4-15 April
Coverage:
Watch live on BBC TV and Red Button with extra streams on Connected TVs, BBC Sport website and app; listen on Radio 5 live; follow text updates online.
Times and channels
In these parts, they have a nickname for their Olympic champion Kyle Chalmers.
Actually they have two nicknames. That's how good Chalmers is. One nickname isn't enough for this extraordinary teenager. Some call him The Big Tuna. Others call him King Kyle. Beloved and revered doesn't get close to what Australia thinks of this kid.
Even before a body had hit the water in the 100m freestyle final, the Aussies were calling it. Chalmers had looked sluggish in qualifying, but he was still going to win. Sure, Chad le Clos, the great South African, might push him close, but Chalmers was going to take him down.
Yes, Cameron McEvoy, the local boy from the Gold Coast, would have the home crowd with him, but as good as McEvoy has been for all these years, nobody could see him catching the Tuna.
Jack Cartwright, 19, was a danger for sure. Australia won gold in a canter in the 4x100m relay on Friday and Cartwright was in the team with McEvoy and Chalmers. Arguably, he swam the most impressive leg in the rout. Cartwright might get a medal, but it wouldn't be gold. That was the gist.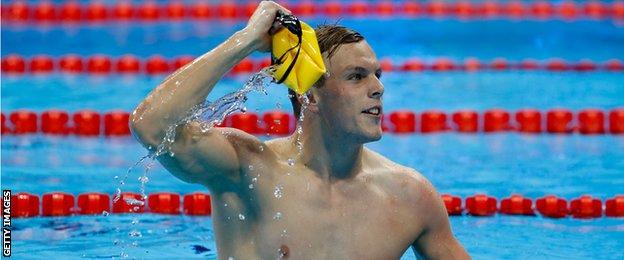 In the previews of the final in the local media nobody else got a mention. Of the six versions we read, Duncan Scott wasn't name-checked in any.
"I can't see any rival causing Kyle grief," said Kieran Perkins, an Olympic champion from Barcelona and Atlanta.
"His unflappable nature is one of his greatest assets," said James "The Missile" Magnussen, the three-time Olympic medallist.
"Chalmers set to cement place among greats," wrote the Courier Mail in Brisbane and nobody in Australia was of a mind to disagree.
Magnussen, with all his medals and experience and greatness, had a theory about how this final might pan out. He reckoned that Le Clos would go like the clappers, guaranteeing a fast time - maybe some kind of record time - but also making it even more likely that Chalmers would win.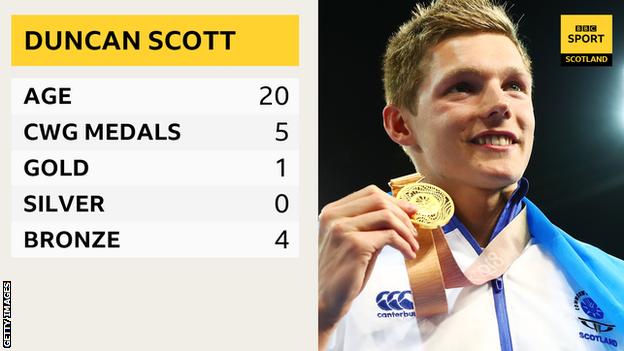 "Chad could be the man to take Chalmers to both a gold medal and a blistering time," he said. Wrong, James. Wrong, wrong, wrong.
The 100m freestyle is the blue riband of the pool. Commonwealth Games, World Championships, Olympics, it's the marquee final. Chalmers is Olympic champion. What happened at the Aquatic Centre, therefore, transcended these Games and will have reverberated around world swimming.
If they didn't know it before then Chalmers, champ from Rio, and Caleb Dressel, the world champion, and all the other heavy-hitters know it now - Scott has emerged as a major rival on the biggest of stages.
This was a sensation, nothing less. Maybe not to Scott and maybe not to those closest to him who felt sure he was ready, but to a lot of people who didn't think him good enough to defeat the Olympic champion just yet.
Scott's pedigree was blindingly obvious - fifth in the Olympic final, fifth in the World Championships final - but still the Australians couldn't quite fathom what happened out there.
To a bewildered television interviewer, almost lost for words at the golden boy's defeat, Chalmers simply said: "Duncan Scott had a good swim tonight - what can you do?"
Some wanted to make excuses for Chalmers - he had been struggling with his body and, according to one report, he had been "ravaged by a head cold" - but Chalmers wasn't going there. No excuses, he said. Quite right. This was brilliance by Scott. Sheer brilliance.
The 20-year-old's performance in winning gold has to go into the pantheon of all-time great swims by a Scot. McEvoy flew out of the blocks and reached the turn in front, Le Clos second and Yur Kisil third for Canada. Through 75m it still looked like McEvoy and Le Clos' race. Then, Chalmers came hunting for them.
Every Aussie in the place had their eyes fixed on Chalmers in lane three. All Scottish eyes were on the boy in lane six, powering through the water, reeling in the leaders inch by precious inch. It was outrageously impressive stuff. A race to remember, on a golden pond.
He got there there in 48.02 seconds - 0.13 secs ahead of the rest.
"I did what I do best," said Scott, later. "It's a dream for me for my family to see that."
Of course, there was more from him before the night was out. As part of the 4x200m relay team, he took bronze to go with his other three bronzes and his gold. Five medals in one Games. No Scottish athlete in history has ever brought in such a haul.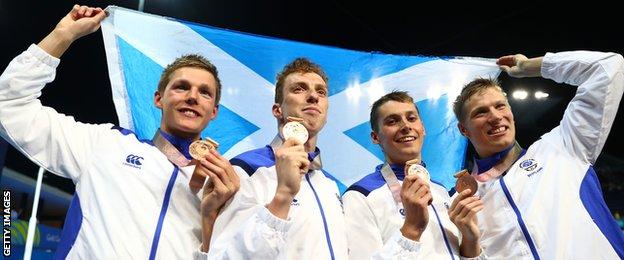 Scott is an athlete for the modern age; utterly fearless, frighteningly dedicated and hugely talented. Where he goes next is obvious: to Glasgow in August for the European Championships.
But where is he going in the wider sense? That's an exhilarating thought. There are no certainties in sport at this rarefied level, but Scott has now backed up his form from the Olympics in Rio and the Worlds in Budapest.
He did it with the most outlandish flourish that had his supporters hoarse in acclamation and the hosts stunned into rare silence. This was something truly special.