Commonwealth Games: Marshall & Foster aim for fours gold after pairs silver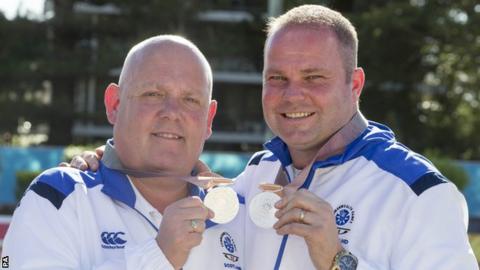 Alex Marshall and Paul Foster are determined to win gold in the fours after missing out in the pairs final at the Commonwealth Games.
The Scottish duo had to settle for silver in defence of the bowls title they won at Glasgow 2014, losing out to Daniel Salmon and Marc Wyatt of Wales.
Marshall was bidding for a fifth gold to become Scotland's most successful Games athlete.
"You've got to bounce back and that's what we'll do," said Marshall.
"A silver medal is great, it's fantastic. There were a few records that I could have broken today but I put that to the back of my mind.
"I'm not going to put any pressure on myself. We've got the fours starting later so hopefully we can win the gold there."
Marshall, 51, is competing at his sixth Commonwealth Games and has one more chance to surpass the record he shares with sprinter Allan Wells and para-cyclist Neil Fachie.
Marshall and Foster have won seven Commonwealth golds between them and were firm favourites against their Welsh opponents.
However, they let slip a 5-1 lead in a 12-10 defeat in the Gold Coast.
"There's been plenty of games we've played we've got all the breaks and today it just wasn't for us," said Foster.
"We came here for a medal and we got silver. Obviously we're disappointed not to get gold but it's a great defence of the title we put up.
"It makes us even more hungry to try and get gold in the fours without a shadow of a doubt. We've got two nastier guys who look out for us in the fours and we'll certainly bounce back.
"I'm quietly confident we'll be very, very close. We'll definitely be in the mix for the medals and be back even stronger and looking forward to it."