BBC Sport - Commonwealth Games: Alice Kinsella takes gold and Kelly Simm bronze for England in the beam final.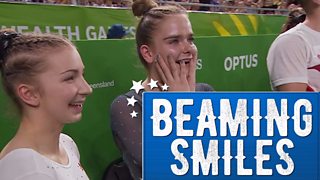 Gold and bronze for England on beam
England take first and third in the individual beam final at the Coomera Indoor Sports Centre. Alice Kinsella took the gold with a score of 13.700 and Kelly Simm got bronze with 13.033.
Follow live video coverage and text updates from day four of the Commonwealth Games here.
WATCH MORE: Wilson wins third gold in horizontal bars
Available to UK users only