Commonwealth Games: Isle of Man's Charlotte Atkinson fourth in 200m butterfly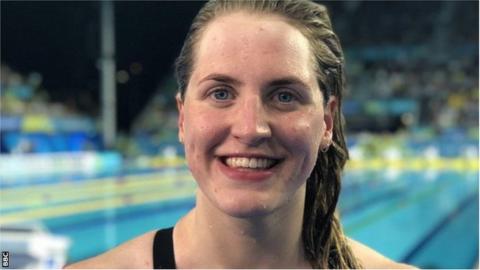 Charlotte Atkinson narrowly missed out on winning the Isle of Man's first medal of the 2018 Commonwealth Games.
The 21-year-old student got off to a fast start in the women's 200m butterfly final, and was in the bronze-medal position at the halfway mark.
But Alys Thomas surged through to win gold for Wales ahead of Australian duo Laura Taylor and Emma McKeon.
Atkinson, who clocked 2:08.50, was 0.45 secs behind McKeon. Earlier in the Gold Coast Games, she was fifth in the 100m.
Before Friday's 100m final, the last Manxwoman to reach an individual final was Alexandra Jackson, who won 200m freestyle bronze at the 1970 Games in Edinburgh.