Commonwealth Games: Kristina O'Hara into final with NI medals tally now 10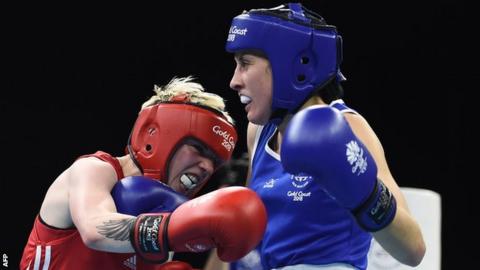 NI boxer Kristina O'Hara is guaranteed a Commonwealth Games silver after winning her semi-final as Brendan Irvine, Steven Donnelly, Carly McNaul and James McGivern also secured medals.
Light-fly O'Hara bossed New Zealand's Tasmyn Benny and will face Indian great Mary Kom in Saturday's final.
The victories for Irvine, Donnelly, McNaul and McGivern mean Northern Ireland are now guaranteed 10 medals.
Eight of those medals have been secured by the boxing team.
In athletics, sprinter Leon Reid produced a superb run to qualify for Thursday's 200m final as he clocked 20.61 second to finish second in his semi-final.
The haul of 10 medals thus equals Northern Ireland's third best performance behind the 15 won in Edinburgh in 1986 and 12 in Glasgow four years ago.
Northern Ireland also won 10 medals at the Victoria in 1994 and Delhi eight years ago.
Irvine wins close contest
Belfast man Irvine edged a 4-1 verdict over Botswana's Rajab Mahommed in a tight flyweight quarter-final.
The Botswanan sank to his knees in disappointment after the result was announced.
Mahommed appeared to hold the edge in the opening two rounds in a high-quality contest although Irvine looked to have won the third round.
Four of the judges awarded Irvine a 29-28 verdict with the Botswanan getting the same margin from the other judge.
Middleweight Donnelly earned a more dominant win over Samoa's Henry Tyrell.
Donnelly, who won bronze at the 2014 Games in Glasgow, was given a standing count in the final round of his quarter-final but had already built up a big lead.
Women's flyweight McNaul guaranteed herself at least a bronze as she earned a second-round stoppage win over Nigeria's Ayisat Oriyomi.
The Nigerian looked to have won the first round but then appeared totally spent during the second round as her corner opted to throw in the towel.
Classy McGivern secures medal
Belfast lightweight McGivern, 20, secured another medal for Northern Ireland when he produced a classy display to earn a unanimous quarter-final win over dangerous Mauritian Jean John Colin.
After shading the opening round, classy southpaw McGivern produced a couple of big lefts to force Colin to take a standing count.
Colin attempted to fight back in the final round but McGivern stayed out of trouble to win comprehensively on all five cards.
Women's lightweight Alanna Nihell was beaten by England's Paige Murney on a unanimous 5-0 verdict.
In contrast, O'Hara earned a unanimous victory over New Zealander Benny in her semi-final to set up a final against five-time world champion Kom.
Reid books 200m final spot
Sprinter Leon Reid ran superbly to automatically book his spot in Thursday's 200m final as his time of 20.61 left him second behind semi-final winner Trinidad & Tobag's Jereem Richards.
Running in the third and final semi-final, Reid needed his automatic qualifying spot as anything slower than 20.62 would not have been enough to secure a fastest loser's berth.
The 23-year-old, who has a personal best of 20.38, did not appear to get the greatest of starts but maintained his form brilliantly over the closing stages to hold off Montserrat's Julius Morris for the second qualifying place.
In the women's 200m semi-finals, Amy Foster bowed out after finishing eighth in her heat in 24.02 seconds.
Netballers clinch second straight win
Northern Ireland's netballers clinched a second successive victory as they defeated Fiji 73-46 and they will go on to the seventh/eighth place match.
In shooting, 67-year-old David Calvert, chasing a ninth Commonwealth Games medal, is 10th after day one of the individual full bore rifle event.
His team-mate Jack Alexander lies 12th after shooting at 300, 500 and 600 yards on Wednesday.
The competition continues on Thursday before Saturday's closing action over longer ranges.
In bowls, women's pair Catherine Beattie and Sandra Bailie missed out on a quarter-finals place after losing their key game 18-10 against Wales which meant that their later 27-8 win over Jersey was academic.
Gary Kelly lost his final singles group game against Canada's Ryan Bester but both players had already reached the quarter-finals.
The men's four of Ian McClure, Martin McHugh, Simon Martin and Andrew Kyle has qualified for the quarter-finals after a 24-4 win over Fiji but the women's triple of Sally McAuley, Donna McCloy and Erin Smith are out after a 30-5 defeat by Australia in the last eight.
In table tennis, Ashley Robinson and Paul McCreery are into the last 16 of men's doubles after a straight sets win over their opponents from Tuvalu but Owen Cathcart and Zak Wilson lost to Scots Gavin Rumgay and Craig Howieson.
Cathcart also bowed out of the singles after losing 13-11, 8-11, 11-2, 11-7 and 11-7 against Nigeria's Bode Abio
Badminton brother and sister Sinead and Ciaran Chambers were beaten 21-6 21-12 by Malaysian top seeds Soon Huat Goh and Shevon Jemie Lai in the last 32 of the mixed doubles.
Ciaran Chambers was also beaten in the last 32 of the men's singles after a 21-7, 21-8 defeat by Sri Lanka's Dinuka Karunaratna.