Commonwealth Games: Paul Pollock ruled out of Gold Coast marathon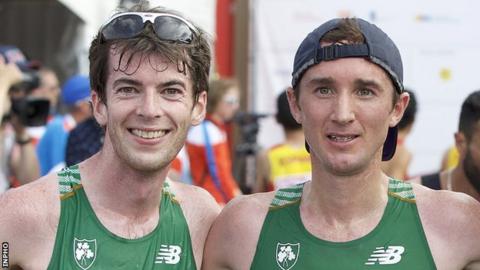 Northern Ireland's Paul Pollock has been forced to withdraw from Sunday's Commonwealth Games marathon.
A statement from Team Northern Ireland said that Pollock, 31, began to be troubled by an ankle injury during the pre-Games training camp in Australia.
"Despite the best efforts of support staff, there has not been enough time for the injury to settle," said the Northern Ireland statement.
Pollock's absence leaves Kevin Seaward as the lone Northern Ireland hopeful.
Seaward will be the only member of the Northern Ireland team involved on the final day of competition in Australia.
Pollock said he was "absolutely gutted" at having to withdraw from Sunday's race.
"Been in similar situations before but this one particularly hard to take. Tarsal stress fracture last Saturday. Thanks to Team Northern Ireland's brilliant medical team but not to be," said Pollock, who competed in the 10,000m at the 2014 Games in Glasgow.