BBC Sport - Commonwealth Games: 'There's not a chance I lost that fight' - heartbroken Michaela Walsh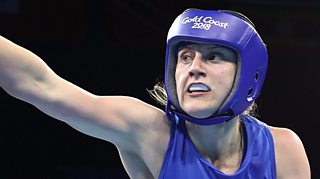 'There's not a chance I lost' - Walsh heartbroken after loss
Northern Ireland boxer Michaela Walsh is left devastated after suffering a second narrow defeat in a Commonwealth Games final.
Walsh, 24, was edged out by home fighter Skye Nicolson in the women's featherweight final on a 3-2 split decision.
"I am going to get 'gold medal only' engraved on this," said Walsh as she pointed at her silver medal after the bout.
Video UK Only