Commonwealth Games 2018: Scotland's Callum Hawkins collapses in marathon
Last updated on .From the section Commonwealth Games289
Scotland's Callum Hawkins was taken away in an ambulance after collapsing just over one mile from the end of the marathon at the Commonwealth Games.
In hot conditions on the Gold Coast, the 25-year-old had a two-minute lead and looked set for gold but began weaving before falling over the kerb.
He continued for another couple of hundred metres before collapsing again, hitting his head on a roadside barrier.
Hawkins was conscious, sitting up and talking when helped into an ambulance.
Compatriot Robbie Simpson took bronze in a race won by Australia's Mike Shelley in two hours 16 minutes 46 seconds, with Uganda's Munyo Solomon Mutai second.
Team Scotland said Hawkins would remain in Gold Coast University Hospital overnight as a precaution and will be assessed on Monday by their medical team.
Hawkins said he was "feeling much better".
Peter Jardine of Scottish Athletics had earlier told BBC Scotland that Hawkins, who had been running for a little over two hours, initially refused medical treatment after collapsing because he "feared he would be disqualified".
Scotland's Steph Twell, who finished seventh in the 1500m, ran to the scene and helped Hawkins as he was taken away.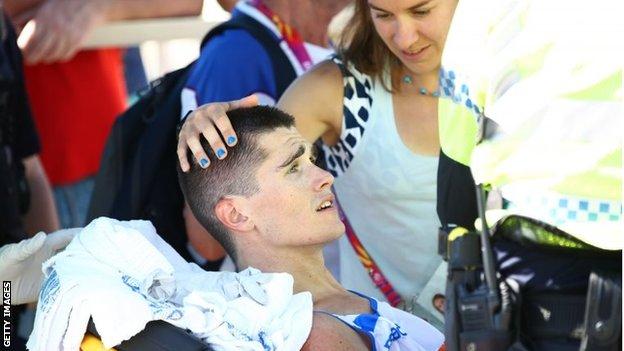 Medical help 'a disgrace'
It had taken a couple of minutes for any medical staff to attend to the Scot, who was lying on the road in clear distress with spectators looking on, some taking photographs.
BBC Sport commentator Steve Cram said it was "a disgrace" it took so long for any paramedics to attend to Hawkins.
Cram added: "I'm just concerned for his welfare. He hit his head on the barrier. I'm sorry if you're watching this at home, it's really distressing. He's going to hurt himself and there's nobody anywhere near.
"We should have some more medical attention. This is a guy in real distress and someone needs to recognise it for his health at this point.
"Where on earth is the help? You cannot just wait at the finish line. They've got radios. And finally somebody arrives. I think it's disgraceful."
When asked to explain why it took so long for paramedics to attend to Hawkins, Gold Coast organising committee (GOLDOC) chief executive Mark Peters said: "We need to check the facts out. You can't have medical people on every kilometre of the road.
"They are professionally positioned as they are for our Gold Coast marathon when we have 30,000 people running. Obviously the health of the athlete is absolute prime.
"Sometimes medical people arrive and athletes have to make a decision whether they want to go on or not and I understand that was part of the discussion."
Team Scotland said: "Whilst Callum's recovery is our clear priority, we are still reviewing the circumstances of today's race with GOLDOC and the Commonwealth Games Federation to ensure the continued health and wellbeing of all athletes remains paramount."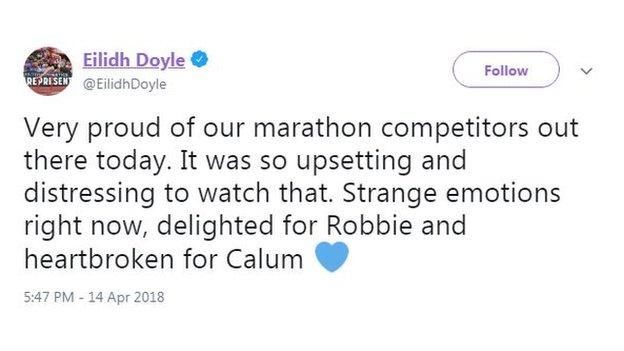 'There's rarely a marathon where someone isn't collapsing'
Peters said he was attempting to get more information, adding: "There is no reason there would be deliberate delays and our thoughts are with the athlete."
He also said he did not think the heat - the temperature was about 28C - was a problem.
"Athletes run in snow, they run in 30-odd degree heat so we don't think that's an issue," he said.
"Unfortunately athletes do run themselves to exhaustion and there is rarely a marathon where someone isn't collapsing."
GOLDOC later released a statement which confirmed "medical staff were posted at 500m intervals in the final kilometres of the course" and all staff "had radio communications".
It added: "In competition there are strict rules around accepting medical help and subsequent disqualification. After Callum Hawkins collapsed on the bridge, medical staff provided treatment when requested."
In the statement Peters said he "was concerned about the behaviour of a small number of bystanders who chose to take images". He added: "This is not in keeping with the spirit of GC2018."
Shelley said: "I saw him on the Sundale Bridge and just tried to hang on.
"When I was coming down the home straight I tried to accelerate but I was just gone. I thought hopefully I can get to the finish line because I was starting to get cramps in my hands."
The dilemmas facing a marathon runner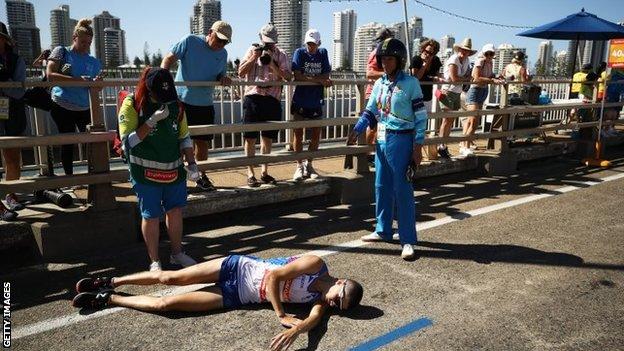 Simpson told BBC Sport he had sympathy for Hawkins because marathon runners have "always got conflict because part of the race is not listening to your body".
He added: "You've got to push through the wall. When you get tired you can't slow down, you have to fight all the way to the end. And that's what Callum was doing.
"I never felt too bad, I was tired, it was hot but it always felt manageable, on the right side of what was safe."
He said he could "understand" why Hawkins did not want medical treatment.
"I've been in the same situation in the heat and I was hallucinating," said Simpson.
"So what you think you want - sometimes you get ideas in you head that you think is what's happening - can be quite different from reality.
"He didn't think he was as bad as what he was but it could have been worse if he did keep going.
"You don't know what damage you can do by collapsing in this heat.
"Laying on the hot tarmac is so much worse. You have these feelings of the overwhelming heat, like being in an oven.
"What kept me going was moving and a bit of the breeze and then just getting straight into the recovery tent with ice and the cold drinks."
When asked about running past his team-mate, Simpson said: "It was pretty horrible.
"I kind of look up to Callum as being someone who has been there, at the World Championships, getting fourth place and having the Scottish record for the half marathon.
"So to see someone like that, who I respect so much just lying there, it was awful."
Hawkins was not the only athlete to suffer in the conditions - Tanzania's Stephano Huche Gwandu was put in a wheelchair after falling as he crossed the finish line.
His team-mate Saidi Juma Makula collapsed close to the finish line - one of seven of the 24 starters who did not complete the race - and was helped into an ambulance.