Commonwealth Games: Brave Callum Hawkins needed taking out of firing line

By Tom English
BBC Scotland on the Gold Coast
Last updated on .From the section Commonwealth Games
Callum Hawkins is recovering well, that's the main thing. Actually, it's the only thing.
From his bedside at the Gold Coast University Hospital, where he will stay overnight, there is comforting news. He's sitting up, he's talking, he's on the mend.
Later, from his hospital bed and via his team, Hawkins thanked people for support and hospital staff for his care, before adding: "I am now feeling much better."
For a little while, however, as he lay on the road on Sundale Bridge, a desperate victim of heat exhaustion and with no medic in sight, you feared for him. But he's going to be fine. That's the first point.
The second point is that he remembers nothing of his collapse. The horrible drama that unfolded in the closing kilometres of a marathon he had at his mercy, is a blank to him. The images have gone around the world and have made many wince in pain and shout in anger, but to the man at the heart of it there's no recollection. That's scary.
Hawkins made his move in the race around Mermaid Beach, 20km into the 42km Commonwealth Games marathon. Despite the stifling heat that would hit 29 degrees and that would cause such distress later on, the Scot began to turn it on and ease clear. Through Nobby Beach and onwards into Burleigh Heads and Surfers Paradise he looked to all the world like a man who was heading for gold.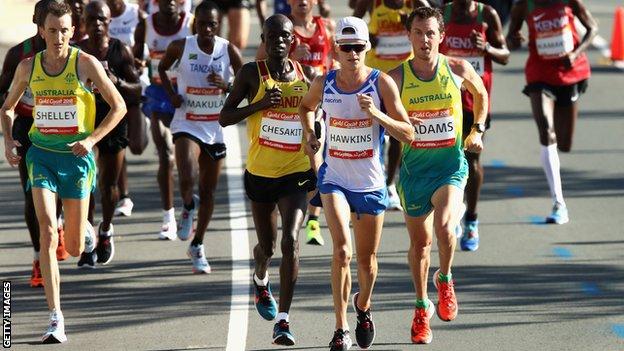 His lead was approaching two minutes with only seven kilometres to run. Mark Munro, the chief executive of Scottish Athletics, was standing at the side of the road shouting his encouragement when Hawkins ran through Surfers. Munro was excited but concerned. There was something about Hawkins' running style that perturbed him. There was a little wobble that he'd spotted that few others had spotted.
When Hawkins ran by him, Munro legged it to the beach where the giant television screen beamed out the pictures of those disturbing last minutes. There was a gasp among the onlookers when Hawkins fell for the first time. Swaying towards a kerb beside a spectator area, he went down, utterly spent, like a boxer who had taken too much punishment.
He got himself up and staggered across Sundale Bridge in Southport, just a few kilometres from the finish line at Broadwater Parklands. He swayed again and bounced off the roadside barrier. He clung to it like a fighter clings to the ropes, but his legs had gone. His head, too. Heat exhaustion had reduced him to a shell of an athlete, running on empty and then not running at all. Down he went again. This time, there was no getting back up.
"You've always got the conflict because part of the marathon is that you don't listen to your body, you've got to push through the wall," said Robbie Simpson, who ran on to take bronze. What a shame that his fine achievement will be so overshadowed because of what happened on the bridge.
"When you get tired you can't just slow down. You have to fight all the way to the end. That's obviously what Callum was doing because he's so mentally strong. By the end, your body can only do so much."
The rules state that a runner can only get medical assistance when he asks for it. Hawkins didn't ask. It's not in the DNA of a top athlete - and he really is a top athlete - to admit weakness no matter how horrendous his condition. He got up and tried to carry on. He was semi-conscious, but that's what his instinct told him to do.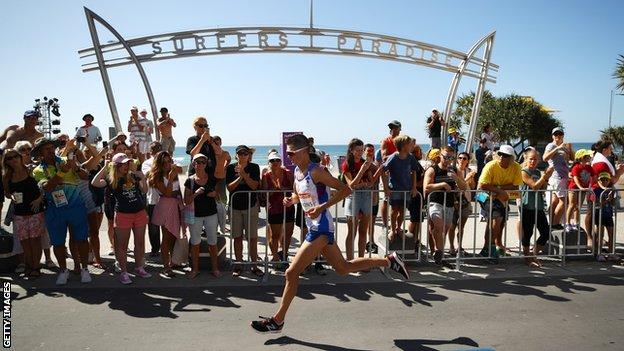 He was allowed to do it, that's the thing that has angered many. Hawkins was allowed to make the decision to carry on when clearly he was incapable of rational thought. He needed protecting from his own competitive intensity. He needed a medic to step in and say, 'Callum, there will be other days, but this one is done'.
A boxer doesn't get to make a decision about boxing-on if he's been battered all over the ring. A rugby player doesn't get to make it if he's been concussed in a tackle. They've suffered brain injuries. They need to be taken out of the firing line.
Even before he first fell, Hawkins was in bother. "I can understand why he didn't want help," said Simpson. "I've been in the same situation a few years ago in a race in the heat and I was actually hallucinating. What you think is happening can be quite different from reality."
When he went down a second time, crashing into a roadside barrier and hitting his head, his face was that of a man who didn't know where he was or what he was doing. His lead at the time he crashed was two minutes and three seconds.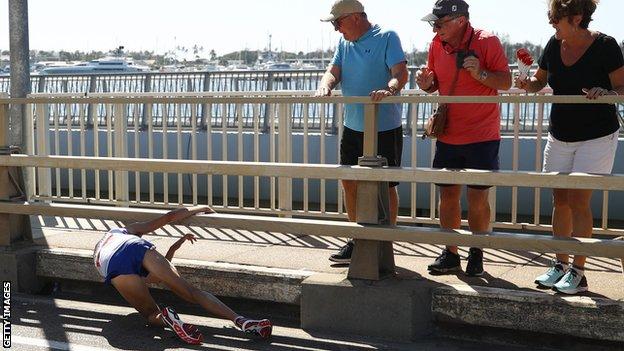 Rodney and Annalise West were on the scene. "He wouldn't let anybody touch him," said Rodney. If an athlete gets helped back on his feet he's disqualified. "He crawled around on the ground for two or three minutes. We asked one of the volunteers to put him under the shade of an umbrella."
In the BBC studio, race commentator Steve Cram was growing more angry by the second at the lack of medical help on the bridge. "I'm concerned about his welfare," said Cram. "I'm sorry if you're watching this at home, it's really distressing. Where on earth is the help?"
The same plaintive cry was going up everywhere. Hawkins was on the floor for two minutes before assistance reached him. Watching on television, the Scottish runner Andrew Butchart, cut to the chase when tweeting: "SOMEONE HELP HIM!"
Under fire from the public and the press for the the delayed response, Mike Peters, head of the Gold Coast Games, said that medics were stationed every 500m in the closing kilometres of the race. He said that medical help was there for Hawkins when he asked for it. The point is that it wasn't there quickly enough when he needed it.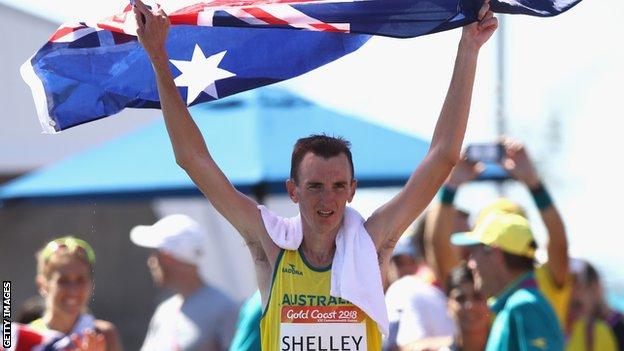 In his press conference, he also had critical words for some of the spectators. "I was concerned about the behaviour of a small number of bystanders who chose to take images," he said, "This is not in keeping with the spirit of CG2018."
True, one or two rubber-necked people took photographs. However, in shining a light on a few members of the public, Peters sounded like a man who was trying to deflect attention away from the key issue.
"We've formally raised the situation with the organisers," said Paul Bush, chairman of Commonwealth Games Scotland. "We have some concerns. The concern is the amount of time it took (for medics to get to Hawkins). We're fully aware of the IAAF rules in terms of how the athlete has to declare himself unfit to compete, but he was in trouble for a long time and fell twice. We would have hoped that people would have got to him quicker because the second time he fell he was in serious trouble. We were extremely worried."
Back on the bridge, with Hawkins flailing on the floor, we could see a yellow vest coming behind him. The chasers had arrived. Michael Shelley, a local from the Gold Coast, ran on to take the gold that should have belonged to Hawkins. Behind him, Munyo Solomon Mutai of Uganda took silver.
When Simpson happened upon the scene the medics had finally arrived and the process of getting the stricken runner off the bridge, into an ambulance and away to hospital had begun. Hawkins was one of seven runners who didn't make it to the end. All seven were taken to hospital. One of them exited in a wheelchair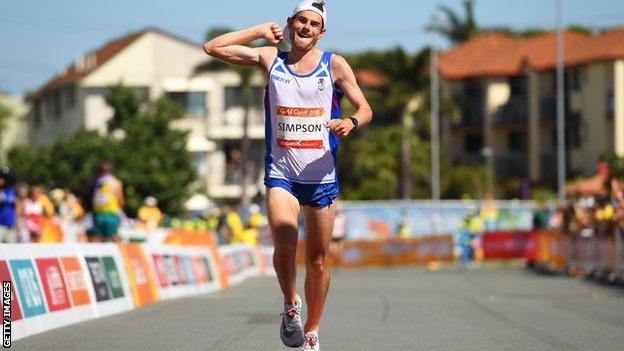 "To be honest, close to the finish, my legs started giving me the wobblies," said Shelley. "I was like, 'Oh jeez, I could be on the road myself in 500m. I tried to accelerate on the home straight, but I couldn't. I was gone."
Simpson said he didn't suffer as much as some of the others but he won't forget the feeling he got when he ran past Hawkins.
"It was pretty horrible. I'd heard the leader had stopped and at that time I was just hoping it wasn't Callum. 'I hope it's not him. I hope he's still going and he's on his way to the finish'. I kind of look up to Callum, so to see someone like that, who I respect so much, just lying at the side, it was just...awful."
Hawkins didn't get the gold medal he deserved, but what he's getting all around the world is praise for his spirit in trying to fight a battle that no athlete can hope to win.
There are issues that need investigating on the back of this and, perhaps, protocols that need to be introduced. That's for the future.
For the present, there's a just a big sigh of relief that he's going to be fine.