Commonwealth Games: Scotland's memorable moments - Scott, Marshall, Hawkins, Beveridge, Fachie, Doyle, Archibald, Heatly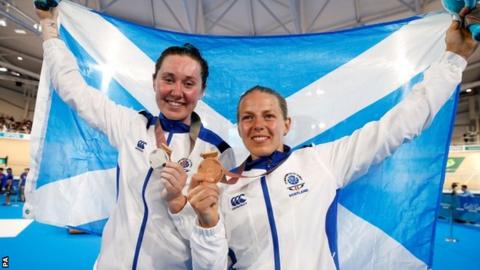 The Gold Coast started to pack its tents and go back to normal life on Monday.
The temporary stands at the swimming pool came down, the dismantling of the beautiful arena for the beach volleyball began, the boxing hall disappeared and the place returned to being a sound stage for Hollywood movies.
A lot of the infrastructure is going, but memories are remaining. Which ones? So many. Too many. This is not meant to be a comprehensive sweep, just a series of snapshots. Good and bad and weird. Sporting life in all its forms.
Athlete of the Games
Impossible to look past Duncan Scott. It wasn't just his record six-medal haul that made him the Scottish face of the Games, it was the quality of what he was up against.
The Commonwealth Games can be rightly criticised for being mediocre in some sports, but the swimming is world class. Scott was jaw-droppingly good in the 100m freestyle.
His closing bursts were utterly thrilling and never more so than that night at the Aquatic Centre. It was one of the finest individual performances by any Scot in any sport in recent years.
Quotes of the Games, Part One
1. "There was a bit of poo running down our leg at times" - Scotland basketball coach Rob Beveridge on the anxiety of playing against host nation Australia.
2. "I'm absolutely disgusted. I'm devastated. I came here for gold and I won that fight" - Boxer Reece McFadden on his controversial semi-final loss to Northern Ireland's Brendan Irvine.
3. "To get five is a dream. In the beginning, all I ever wished for was one" - Bowler Alex 'Tattie' Marshall on creating history with a fifth Commonwealth Games gold medal.
Cringe moments
1. The closing ceremony: A plodding, dreary, un-Australian non-entity. Speeches droned on forever. No star quality. Loads of empty seats at the start. Loads more halfway through. Athletes walked out though sheer boredom. "Clearly a stuff-up," said the head of the Gold Coast Games, Peter Beattie. Embarrassing.
2. The opening ceremony: Earnest and pompous. Watching it on the big screen on the beach at Surfers Paradise, the locals gave it a proper kicking. It was a blessing when the rain came and everybody abandoned it.
3. Endless playing of 'You're The Voice' by John Farnham, the Dagenham-born Aussie. It was physically impossible to get through a day at the Games without hearing it at least five times. GBH of the ear-hole, as Arthur Daley of Minder fame might have put it.
The number 39
Why 39? It was the number of seconds a hugely emotional Kieron Achara took to compose himself before answering a question in the aftermath of Scotland's bronze medal match against New Zealand. The man was distraught. Now retired from international basketball, what a magnificent ambassador for his sport he has been.
Quotes of the Games, Part Two
1. "I didn't want to cry live on TV" - Boxer Vicky Glover, 18, on why she took a moment before talking about her quarter-final defeat.
2. "My whole body shut down. I thought it was all over" - Triathlete Marc Austin on keeping it together in winning Scotland's first medal, a bronze ahead of the exalted Brownlee brothers.
3. "British athletics kicked me off funding. They told me to retire, twice. Everyone told me to retire" - Hammer-thrower Mark Dry on overcoming horrendous injuries to take a dramatic bronze with his last attempt.
Image of the Games
It was going to be the look on Aussie faces at the swimming pool when Duncan Scott got up to beat their golden boy, Kyle Chalmers, in the 100m freestyle final, but the sight of Callum Hawkins crashing into the barrier on Sundale Bridge in the closing kilometres of the marathon will never be forgotten.
Devon Loch in human form. The heart went out to Hawkins who had gold at his mercy. He was badly let down by the slow reaction of the medics.
Ex-pat stories
1. Allan Nicolson is a boxing man and a son of Glasgow who made the Gold Coast his home many years ago. His story is heartbreaking and uplifting all at the same time.
In 1997, two of Allan's sons were killed in a car crash. Jamie, a silver medallist for Australia in the 1990 Commonwealth Games, was 22, and Gavin was just 10. Another child, a girl called Skye, was born a year after. She never knew her brothers, but, like Jamie, she didn't just fall in love with boxing, she became exceptionally good at it.
She is the same age now as Jamie was when he died and on Saturday night, amid the most emotional scenes, she won a gold medal for Australia. You can only begin to imagine the pride of her dad and her mum, Pat. Incredible.
2. John Beveridge left Blantyre in 1963 and made a new life for himself in Australia. He had a son called Rob who went on to become one of the pre-eminent basketball coaches in the country.
Six weeks before the start of Commonwealth Games, Rob was made an offer he couldn't refuse. Would he coach the Scottish team on the Gold Coast? "My dad is a man of not many words, but when I told him the news there was a tear in his eye. I did it for him. I could see what it meant to him."
3. Last September, Scotland's Olympic, Commonwealth Games and World Championship medallist Ross Edgar was brought into Cycling Australia's high-performance coaching unit.
Edgar has been lauded for his work in helping Australia's cyclists break nine Commonwealth Games and one world record on their way to winning 23 medals, 14 of them gold. The team won just seven golds in Glasgow.
Double double
There weren't many racing certainties for gold at these Games but Neil Fachie, and his pilot Matt Rotherham, was one of them. The standard of the para-sports was decidedly mixed, to put it mildly. That's got to be a major target in future Games. Bigger fields and higher quality.
Fachie has turned into a medal machine. Double gold here and double gold in Glasgow four years ago. Between Paralympics, Commonwealths and world championships, Fachie now has 18 major medals.
Quotes of the Games, Part Three - 100m freestyle final
1. "I can't see any rival causing Kyle grief" - Double Olympic champion Kieran Perkins on why his countryman Kyle Chalmers would not be beaten in the blue-riband swimming event.
2. "His unflappable nature is one of his greatest strengths" - Three-time Olympic champion James Magnussen on why his countryman Kyle Chalmers would not be beaten in the blue-riband swimming event.
3. "Chalmers set to cement place among greats" - Courier Mail newspaper on why their golden boy Kyle Chalmers would not be beaten in the blue-riband swimming event.
4. "Respect all, fear none" - Duncan Scott.
Three unexpected joys
1. Grace Reid was aptly named. She displayed all sorts of class in winning a surprise diving gold in the 1m springboard, which is not her favoured event. Aged 21 and the picture of glowing youth, she could well have been the face of the Games had it not been for Duncan Scott's excellence. Her look of amazement in taking gold is an image that will endure.
2. Sitting in the media room at the Aquatic Centre, journalists were finishing their cycling copy when pictures of the triathlon came up on the television. There was surprise that the Brownlee boys weren't figuring and then something approaching panic when it became apparent that Marc Austin was in a medal position for Scotland.
Cue a mad scramble to get to the mixed zone to get a word with him. Nobody saw this medal coming, not even Austin. For the medal ceremony, he had to borrow Beth Potter's ill-fitting Scotland tracksuit top having forgotten to bring his own.
3. Celebrating in his 'See You Jimmy' hat, Jake Wightman was another medal that dropped out of the sky. Scotland had not made the podium of the men's 1500m in 40 years but Wightman changed all that. The only athletes ahead of him were the Kenyans Elijah Manangoi and Timothy Cheruiyot, who won gold and silver at last year's World Championships in London.
Three disappointments
1. They had legitimate cause for complaint about a couple of decisions that went against them, but just two bronze medals for the boxers. It was only the second time since the Games began in 1930 that there was no gold or silver medal for Scotland.
2. All four wrestlers exited in their first bout. A surprise and a letdown.
3. Scotland's netball team is in its infancy, but it needs to be honest with itself. Finishing ninth was not a reason to cheer-lead, as some did.
Quotes of the Games, Part Four
1. "I always felt I was supposed to ride a bike and I don't know why. It's not just to win medals because they're material things. You can throw them away. Somebody made the Commonwealth Games up and somebody made the Olympics up and we've taken it and said, 'This is important' but when you actually strip it apart it's not actually that important" - Mark Stewart, who rode to gold in the points race, talking about his religious faith and his view on life.
2. "This was something I needed personally. I had a really, really horrible season, the worst I've had on and off the court. I was disenchanted. I didn't know if I wanted to continue coaching, it was that bad. This has given me a flame again. These boys gave their heart and soul. They're a wonderful group of men" - Scotland basketball coach Rob Beveridge exits the job with a moving tribute to his team.
3. "Incredible. A highlight of my career" - The much-loved Eilidh Doyle on being chosen by her fellow athletes to carry the Scotland flag at the opening ceremony. Doyle went on to win silver for the third Games in a row. A class act on and off the track.
Family stories
1. Following in the footsteps of Sir Peter, his grandfather, James Heatly won a medal in the diving. What made it an extra-special story was the fact that James' dad and uncle had with them the Saltire their own father carried into the Arms Park when he was flag-bearer for Scotland in 1958. A lovely nod to history.
2. Seonaid McIntosh, 22, continued the family dynasty in winning her first two Commonwealth Games medals in shooting. She has two to go to match her mum. Shirley, and three more to draw level with her big sister, Jen.
3. There were a few world-class performers and Katie Archibald was undoubtedly one of those. She's fun, she's quirky, she's mega-talented and now her brother, John, has joined the party.
Numbers game
In determining how successful a performance this was from the Scottish team you can slice it any number of different ways. This was the most medals - 44 - at a foreign Games.
Does that make it the best outside of Glasgow? Well, on the official medal table (where the number of golds is the deciding factor), Scotland lie in eighth place. In Melbourne in 2006 they finished in sixth place, with two more golds than they won on the Gold Coast. Better or worse?
Cyprus, behind Scotland on the medal table, won eight golds and 14 medals overall with only 46 athletes from a population of 1.1m. That's a medal for every 78,571 people in the country. Scotland won a medal for every 122,727 people. England, India, Canada and South Africa all finished ahead of Scotland on the final tally but all rank behind Scotland on the medals per capita scale. How are you supposed to decide what's better and what's worse?
Nobody knows for sure how much each nation has invested in the four-year cycle from Games to Games, but that would be another barometer of success or failure. There are too many to ponder.
It was an excellent performance from Scotland, that's about as much as we can say. There was greatness, there was drama, there was triumph in adversity, there was heartbreak, there were tears, there was a strop, there was youth coming through and there was the great passion of the older ones, if you can count the wonderful Hannah Miley as old at 28.
It was quite a spin and a whole lot of fun.