Gold Coast 2018: Erika Kelly recognised for Commonwealth achievements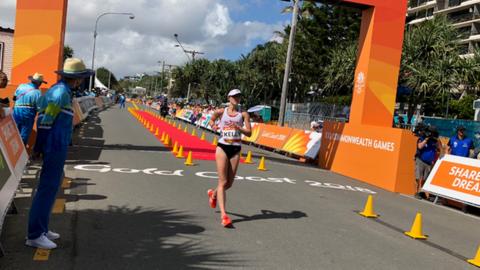 The "outstanding contribution" of a partially-sighted Manx race walker has been recognised by the Isle of Man Commonwealth Games Association.
Erika Kelly, 25, was presented with the President's Sword of Honour in recognition of her achievements at the Gold Coast Games in Australia.
Kelly finished ninth in the women's 20km race walk on her Isle of Man debut, which was won by Jemima Montag.
"It's a massive shock but naturally I am extremely proud," she said.
Kelly was diagnosed with a genetic eye disease aged 14, which has seen her vision deteriorate gradually in both eyes and left her visually impaired.
Despite the condition she has battled against the odds to compete at the top level after just three years in her sport.
IoM CWGA chairman Basil Bielich said: "It wasn't just her performance in Australia which earned her the award.
"Erika has sacrificed a lot to achieve her sporting ambitions and she is a very deserving recipient."
Kelly, who is also a keen harpist, said: "It was quite overwhelming to finish in the top 10 in Australia as the competition was tough and the heat was so intense. but I will always cherish the experience."
She continued: "Growing up, I always admired people who were good at sport but I'd always been pretty average, so to find a sport I was good at was a big surprise.
"I turned up for a running session one evening and it turned out to be the wrong one. The coach suggested I try out race walking and the rest is history.
"I wish I had taken the step earlier. The life plan went out of the window after that!"
Kelly is now targeting the Tokyo Olympics in 2020.