England to play fewer ODIs against Australia
Last updated on .From the section Cricket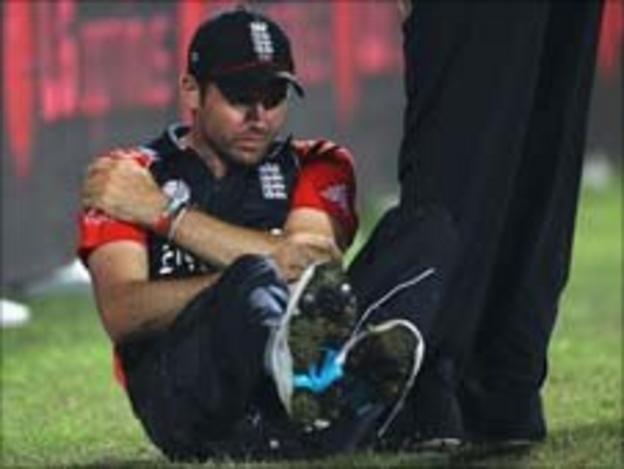 England and Australia have agreed to play fewer one-day matches in future series between the countries.
Some of England's players have been on the road since 29 October, leading to suggestions of burn-out.
England and Wales Cricket Board managing director Hugh Morris admitted on BBC Radio 5 live there had been too much cricket played this winter.
"Going forward, we have agreed we won't be playing seven one-day games, we will be playing five," said Morris.
"And the World Cup and the Ashes won't be played in the same year.
"What we want to do with the schedule is get the balance right and clearly this winter it simply hasn't happened."
England's tour of Australia was a rollercoaster of highs and lows, with the euphoria of a 3-1 Ashes victory giving way to a crushing 6-1 defeat in the following seven-match one-day series.
And at the end of a three-and-a-half month tour down under, England were left decimated by injuries with Paul Collingwood, Ajmal Shahzad, Chris Tremlett, Graeme Swann and Tim Bresnan all on the treatment table.
And since the start of the World Cup on the subcontinent, England have lost Stuart Broad and Kevin Pietersen to injuries.
Coach Andy Flower has already stated he feels the tour's length was to blame for the fitness issues.
Some of England's players have had only three days at home since the start of the winter tour.
And it has been suggested that England's erratic form in the World Cup - they have won two, lost two and tied one - is a result of being on the road too long.
After defeat by Bangladesh, BBC cricket expert Jonathan Agnew said he thought England's players "looked as though they had had enough".
Speaking to BBC News School Report at Lord's last week, national selector Geoff Miller admitted that England did need to look at the amount of games they play.
"I personally think we do play too much cricket, yes," said Miller.
"After a successful Ashes series to go straight into a one-day series was very difficult for the players. And then to continue straight from there into the World Cup was even more difficult - the problems is, as I see it, is that we are one of the only countries that play in our summer.
"The other teams tend to get a respite from that but we are basically playing 12 months of the year so we are going to get fatigue - it's bound to happen, so consequently we need a squad."