Andrew Strauss blasts Boycott for Yardy comments
Last updated on .From the section Cricket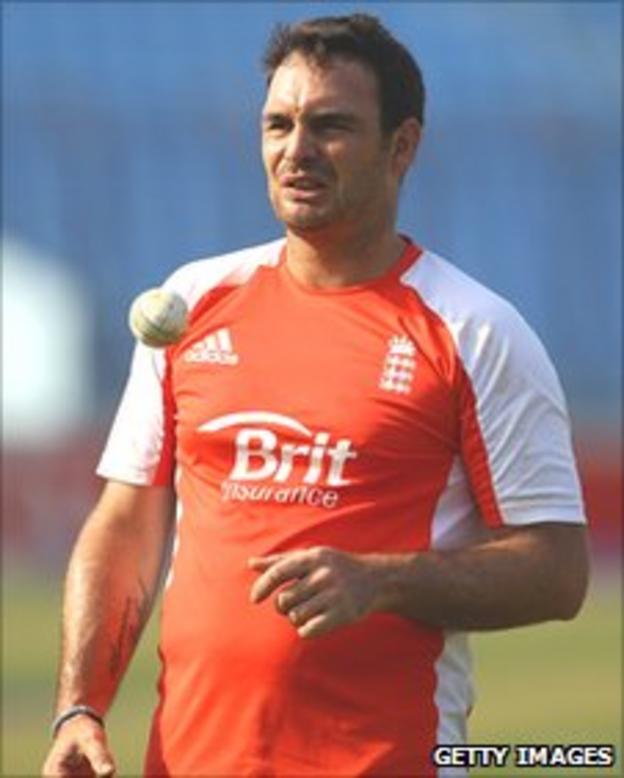 England captain Andrew Strauss has hit out at Geoffrey Boycott for questioning Michael Yardy's World Cup departure.
All-rounder Yardy, 30, is suffering from depression and flew home from Colombo on Thursday.
Former Test batsman Boycott said he was "surprised" by the move and suggested it might have been because of his criticism of Yardy's performances.
"I think they [Boycott's comments] showed a fundamental misunderstanding of the issue," said Strauss.
Strauss added that his side were "very disappointed" by what Boycott said and that the squad sympathised with their team-mate's situation.
"To link it in any way to how he has performed in the World Cup is a long way wide of the mark," continued Strauss.
"I think it's just a lack of information, a lack of being informed as to the situation.
"I don't think your cricketing ability or what you have achieved has anything to do with it whatsoever.
"There are significant pressures, and as you get older a lot of us have kids and what not, which makes touring harder.
"As I said, it's important to draw attention to the fact that it's different from having a hard time being away from home and actually suffering from depression. Two very different things."
BBC summariser Boycott, 70, said he was "very surprised" by the Sussex player's departure from the tournament.
"He must have been reading my comments about his bowling, it must have upset him," he added.
"Obviously it was too much for him at this level. If any blame is attached it's partly to the selectors because I'm sorry, he's not good enough at this level."
Later Boycott tried to play down his remarks when he said: "Until you've had depression, I don't think you're qualified to talk about it."
Boycott has been widely criticised for his comments.
Yardy has received a lot of support, including from former England captain Michael Vaughan.
Vaughan played alongside Marcus Trescothick, who ended his England career as a result of his battle with depression.
"People have to understand that depression is not a sign of any kind of weakness, it just can happen," Vaughan told BBC Sport.
"It must have been a tough decision [for Yardy] to make, but I'm sure that everyone around the ECB [England and Wales Cricket Board], the PCA [Professional Cricketers Association], all the players and his family back home will hopefully give him all the support he needs to help him come through this.
"The most important person involved in this is Michael Yardy. He's clearly going to need some help, but he loves playing cricket and he'll want to do that again as quickly as possible."
Sri Lanka captain Kumar Sangakkara, whose side face England in the World Cup quarter-final in Colombo on Saturday, said: "We all feel for Michael Yardy, we have seen the way Marcus Trescothick battled his way through international cricket.
"The older you get, the longer you play... when you are touring away from home, sometimes the occasion can overwhelm you."