England wait leaves Nottinghamshire's Samit Patel tired

By Dave Bracegirdle
BBC Radio Nottingham cricket correspondent
Last updated on .From the section Cricket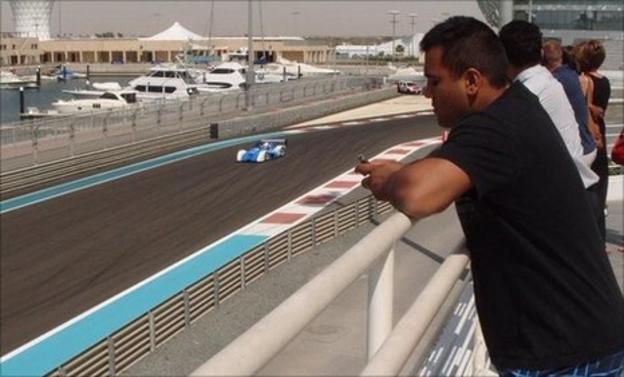 The second 24 hours of our trip didn't begin particularly well for Samit Patel. Like the rest of us on our overnight 'red-eye' flight he didn't get too much sleep on the outbound journey and was obviously looking forward to catching up as soon as his head hit the pillow here.
Unfortunately, events elsewhere would deprive him of that opportunity. In Colombo - a direct four-hour flight from here - Michael Yardy had been withdrawn from England's World Cup team on medical grounds and several television pundits, asked to nominate a replacement, were tipping Samit.
Not unnaturally his family, friends, associates and anyone else who had his number decided to let him know - consequently a two-hour drip-drip of texts followed and, with it, a decision to abandon any hope of sleep for the mean time.
I found him watching the sports cars practising on the Grand Prix circuit here (which runs under, round and almost through our hotel - and is also not exactly sleep-inducing either).
Enquiring if he'd heard anything officially he confirmed that he hadn't but would love the opportunity to represent England once more.
I have to say he looks fitter and leaner than he has done for a while, courtesy of a winter training in Brisbane.
For once - as the only media man here with the Notts party - I was in the right place for a 'scoop' quote or two should Samit receive a call-up, and even got the photograph and caption ready but, alas, Adil Rashid was selected instead and called from the England Lions party out in the Caribbean.
Not this time for Samit - but he will play for England again - and soon.
Speaking of fitness - this is what gets Kevin Paxton out of bed in the morning. An unsung hero, Kevin is the fitness and conditioning coach and was a hugely important figure in last season's championship-winning success.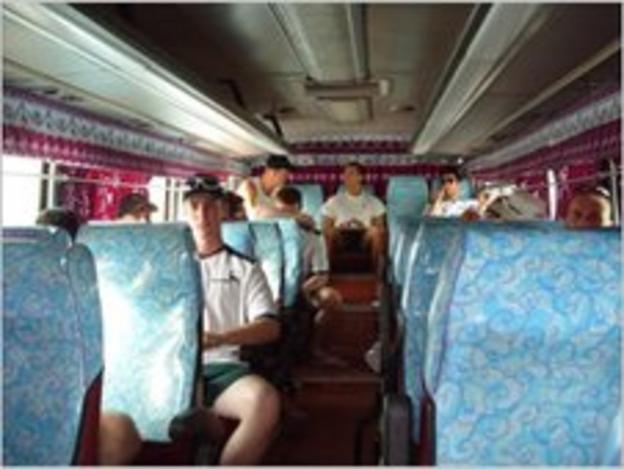 Over the last few weeks Kevin has been preparing the guys religiously - not just for this trip - but for the season as a whole. Ahead of Abu Dhabi he has emphasised the importance of eating correctly and re-hydrating properly in the extreme temperatures that will be encountered.
Dietary recommendations are to be observed - full stop. I don't think Kevin was expecting the lads to be confronted with such an array of sweets, desserts and puddings always available in our hotel though. But on behalf of the party I can confirm that the Black Forest gateau, raspberry cheesecake and chocolate mousse are simply divine.
The trip to nets today was made more eventful by the mode of transport. A luxury bus was not available, so a scaled down version of the charabanc used in the Beatles' 'Magical Mystery Tour' was provided, complete with psychedelic wallpaper and purpley-pink curtains.
Mentioning pink - the ball to be used for the four-day match against the MCC continues to flummox both sides - no-one, as yet, has made a single delivery veer away from being straight. It just offers nothing in terms of sideways movement.
As Wayne Noon said: "This will be a match for the batters."
This could be the most important toss for Chris Read to win since, er… let me see… Old Trafford last September, the match that has enabled us to be out here.
Right, time for pudding.
There will be ball-by-ball commentary on all of Nottinghamshire's four-day games on BBC Radio Nottingham this season, beginning with MCC on Sunday.