Cricket World Cup: Changing face of India's cricketers
By Tim Peach
BBC Radio Producer
Last updated on .From the section Cricket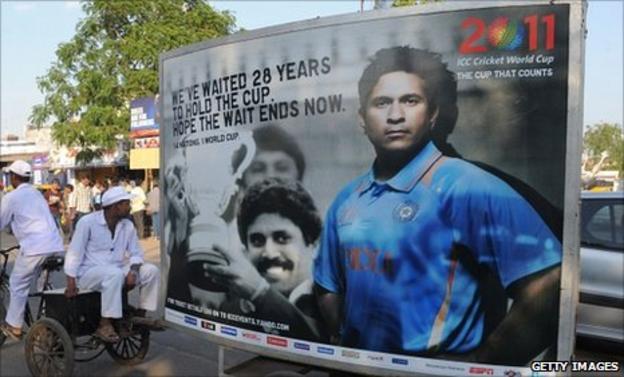 One of Sachin Tendulkar's many advertising campaigns out here in India has a photo of him alongside one of Kapil Dev holding the World Cup in 1983, with the caption "We've waited 28 years to hold the cup. Hope the wait ends now".
Harking back to past glories is familiar territory for English football fans.
Every European Championship and World Cup, David Baddiel and Frank Skinner's Three Lions song describing '30 years of hurt' is updated, telling exactly how much time has elapsed since Bobby Moore lifted the Jules Rimet trophy back in 1966.
This is not the only similarity between English football and Indian cricket. Both are not only the country's national sport, but also their national obsession. Whilst you'll see children playing football in parks, gardens and roads, in England, it's the same with cricket in India.
Cricket is the only topic of conversation in India at the moment - to the extent I was shocked when someone confessed to me today that he 'wasn't really that interested in cricket'.
But as well as adoration for their heroes, there is also a concern for the future of the team.
With each English footballing failure, there is a long list of former international stars willing to argue that playing for England doesn't mean as much as it used to.
It's a fear that Rahul Dravid has voiced about the young Indian talent coming through.
Take the example of Robin Uthappa. He hasn't represented India since 2008, yet he is on a contract with Royal Challengers Bangalore in the Indian Premier League worth £1.2m, for only six weeks' work.
Whilst the amounts may not be as astronomical as Wayne Rooney's £42m over five years, this is in a country where the average wage is £2 per day.
Money is now pouring into Indian cricket in a similar way to football over the past 20 years, and both thanks to their respective domestic Premier League.
Just like Steven Gerrard and Frank Lampard, Virender Sehwag and Yuvraj Singh can earn much more money playing for their club. Since its creation in 2008, the IPL has been hugely popular, flooding the market with cash.
And then there's the sponsorship. Indian cricketers pop up endorsing products in almost every advert break on television, and are revered as national heroes.
As well as the usual array of sporting goods, Tendulkar, Mahendra Dhoni and co have been putting their faces to everything from ceiling fans to cement.
Virat Kohli, the man labelled by many as the bright young star of Indian cricket, is already a multi-millionaire at the age of 22.
As the cricketers get richer, the distance between themselves and the fans, just like in football, has grown bigger. India's cricketers have now become so used to heavy scrutiny from the large press pack that follows them round, that they rarely give press conferences that are insightful or anything away from the norm. Sound familiar?
The craving for success has led both countries to appoint foreign coaches, with varying success. The prevailing notion is that despite the strength of the team, there wasn't a domestic coach who was up to such a large job. For Sven-Goran Eriksson and Fabio Capello, read John Wright and Gary Kirsten.
India fans, though, will be hoping that this is where the similarities end. Back in Euro 96, with home advantage, England came up against their old foes Germany in a semi-final. On Wednesday night, India take on arch rivals Pakistan in Mohali in the World Cup semi-final.
You can hear live coverage of the match on BBC Radio 5 live Sports Extra from 0945 BST.