Dave Bracegirdle on tour with Nottinghamshire

By Dave Bracegirdle
BBC Radio Nottingham cricket correspondent
Last updated on .From the section Cricket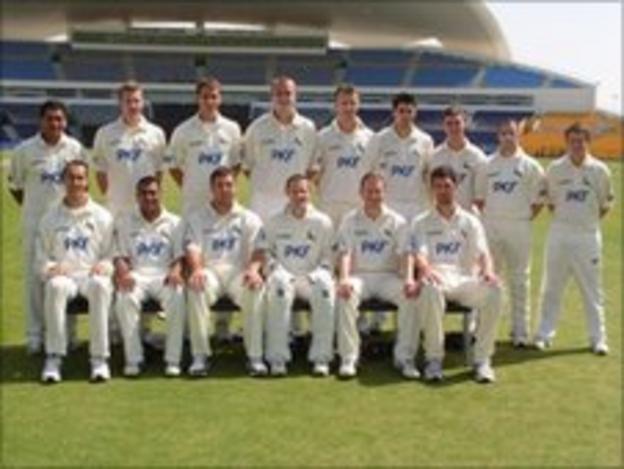 Well the first two days of the MCC match didn't go as planned, did they? Notts were certainly victims of circumstance once the toss had been lost.
Although the bowlers performed heroically to dismiss the MCC inside two sessions, the pay-off wasn't really worth having.
Batting in totally alien conditions here was always going to be difficult. A hot, humid climate, a sand-based wicket and a new pink ball - not to mention the floodlights - were always going to present too many hurdles to overcome this early in the campaign.
As coach Wayne Noon quite correctly said: "It's still March so I'm not overly concerned about how things went. There were mitigating circumstances."
One of those factors was Somerset paceman Steve Kirby. The flame-haired Yorkshireman is a true cricketing Jekyll and Hyde. Off the pitch he's excellent company and talks passionately about the game and his aspirations for the remainder of his career. Listening to a conversation between him and Rahul Dravid on "slow bouncers" was an education in itself.
Once he's entered the field of play, however, he's a totally transformed character and he bowled one of the best spells you could wish to see here to demolish the Notts upper and middle order on the first evening.
Steve has now been forced out of the match and the tour through injury. Hit on the foot by Luke Fletcher whilst batting, he has also picked up a calf strain and the Cidermen have called him home for treatment.
Before leaving, I spoke to Steve and he did pay compliment to both Fletch and Samit Patel for their day one performances and predicted both will have really good seasons.
Prior to the start of the match, the two sides assembled for commemorative photographs. MCC went first - initially the team, then another picture was taken which also included their backroom staff and media representative, the ever-helpful Beth Wild.
When it came to Nottinghamshire's turn for the second pic, I hinted that they might like to have some media representation with them. "His lens isn't that wide," sniggered Paul Franks. Ali Brown joined in with: "Did you have to pay excess baggage for those calves?"
Thanks!
More undeserved abuse came my way from back home when I remarked that it was a bit cooler yesterday. After two days when the temperature topped 40 degrees, it dropped to the mid-20s yesterday, with heavy cloud cover. Don't suppose I'll get any sympathy again for mentioning it - but it actually felt a bit chilly.
Our hotel continues to delight and confuse. Time simply passes by whilst you are trying to open the curtains via remote control - everything is meant to be simple, yet to an old Luddite like me technology is something to be enjoyed by others.
That said, I'm being told that I will be getting - at my own expense, I stress - a smart phone when I get back. This trip, enjoyable as it has been so far, has ended my love affair with my seven-year-old mobile. (I just don't like change.)
Wandering around the grounds of the Emirates Palace, I must have dropped it somewhere and, despite my request to have an appeal put out on the local version of Crimewatch, I think it's gone forever.
Whatever happens in the remainder of the game, it will be a match that Nottinghamshire's two debutants Brett Hutton and Jake Ball never forget and it was a joy to witness Jake's relief at getting his maiden first-class wicket.
They say timing is everything and sports commentators only get one go at calling the action as they see it. At the time I was remarking that this particular passage of play reminded me of the England 1966 World Cup squad with three of the players directly involved - Ball (Jake/Alan) bowling to Moore (Stephen/Bobby) and Peters (Stephen/Martin).
As I was blathering on about such happy times in English sport, Jake got his man - to my shrieking delight. Regaling the tale later someone said: "I assume you shouted 'They think it's all over - it is now!'"?
Oh how I wish I'd said that.
There will be ball-by-ball commentary on all of Nottinghamshire's four-day games on BBC Radio Nottingham this season, beginning with the current game against MCC.