Glamorgan captain Alviro Petersen confident with squad
Last updated on .From the section Cricket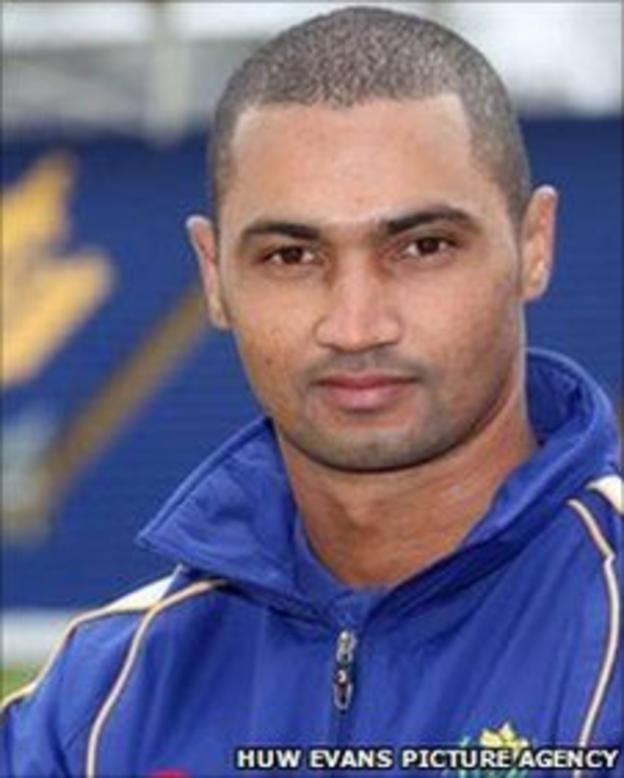 Controversial Glamorgan signing, captain Alviro Petersen says he has bonded with the players ahead of their Championship opener on April 8.
Petersen's appointment in 2010 sparked a winter of discontent, with three key figures at the club resigning.
But Petersen hopes off-the-field troubles have now been forgotten after a pre-season tour to his native South Africa.
"Spending time with the guys was priceless," he said.
Following his appointment as captain in November, ex-skipper Jamie Dalrymple, director of cricket Matthew Maynard and president Peter Walker all resigned.
"We have a great challenge ahead of us," said Petersen, who will lead the team as the county cricket season opens on 8 April with Glamorgan travelling to Grace Road to take on Leicestershire.
"Spending time with the guys [in South Africa] was a great opportunity for me to really get to know the guys - every single day I spend with them just tells me more how much they want to achieve something.
"They really want to get on and play cricket, and that's the important thing," added Petersen.
Glamorgan have yet to play in the UK in 2011 after rain caused the abandonment of their first pre-season friendly against Somerset at the Swalec Stadium on Wednesday.
"It would have been nice to see the boys in action but the weather did not play its part," said Petersen.
Winter signings Graham Wagg and Stewart Walters had been due to make their home debut for Glamorgan in the pre-season 40-over clash.
The side was to be captained by Mark Wallace as Petersen was rested ahead of the Leicestershire game.
The Somerset clash would have been Glamorgan's first game since returning from the pre-season tour to South Africa during which they beat Uganda and a North West Invitational XI in two limited overs friendlies.
"The guys have been working hard in training and it's always nice to get our plans executed," said 30-year-old Petersen.
"It's very competitive in the middle order but it's a good headache to have - it's always nice to have a few guys to select from.
"But on the other side of the coin it's not nice to leave guys out once you feel they are part of the squad and family, which is what we're trying to create at Glamorgan.
"So whatever 11 we select against Leicestershire, I think they will understand they not only represent themselves but the whole squad," added the captain.
"We will have to make sure we produce the goods and I'm confident we will have a good season both in the one days and the Championship.
"If you put Glamorgan's team on paper and compare it to all the other counties, we would probably find ourselves close to the bottom.
"But cricket is not played on paper, it's played in the mind and heart and how much the guys want it."
In the closed season Glamorgan also appointed Australian Matthew Mott as their new coach on a three-year deal.
Altough Mott is yet to arrive at the Swalec Stadium, Petersen says he is in daily contact with the 37-year-old former head coach of New South Wales.
"Myself and Matthew are keen to get started - the beauty of cricket is you never play on the same wicket and every ball is different," said Petersen, who scored 100 runs on his Test debut against India at Eden Gardens, Kolkata, in February, 2010.]
Glamorgan's 2010 season ended in disappointment when they missed out on promotion to Division One after drawing with Derbyshire in their final game.
The side was once 37 points clear and looked set for promotion back to the County Championship's top-flight after a five-year absence.
But they were held to their third draw in a row by Derbyshire and a four-game winless run at the wrong time.