Cricket World Cup: Joe Wilson on the build-up in Mumbai
Last updated on .From the section Cricket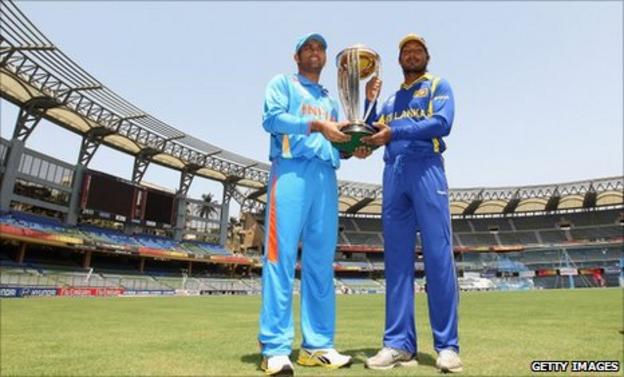 On my flight from Delhi to Mumbai the young man sitting alongside me took out his camera.
He was sitting by the window but the view did not concern him.
The picture he took was of the ticket resting on his lap. He was going to the World Cup final, and perhaps he was still struggling to quite believe it.
In Mumbai many believe the majority of tickets for the final, some 20,000, have ended up on the black market having been distributed via cricket clubs and associations.
The International Cricket Council insists every precaution has been taken to stop this happening but prices of 65,000 rupees (£910) are being quoted, while the average monthly wage for an Indian is around 3,000 rupees (£42).
The market is there because the fascination with cricket is extraordinary.
I was approached the other day by a man with gleaming eyes, fixed on making a point. He thrust a photocopy of a newspaper article in my hand and proclaimed: "Sachin has remained injury free for three years, do you know why?"
I confessed I did not but was soon told: "It is because he has altered the angle of his signature!"
My new friend explained he was a disciple of graphology, a technique of analysing handwriting which handily predicted India's defeat of Pakistan, amongst other recent results.
It is hard to imagine England employing a handwriting coach, the players are more concerned with their tweeting fingers anyway, but in India somehow anything seems possible.
Cricketers appear on television in every commercial break advising Indians about what to buy - Sachin Tendulkar himself endorses engine oil, batteries and cement.
Indians are encouraged to believe that their cricketers have expertise in every aspect of life, so it is easy to see why this has become so much more than a game.
It is often said that cricket is so important to India because it is something the nation can prove it is 'the best in the world at.'
That may be true, but it also misses the point - India is a world in itself.
The only other story making the news was the latest census result which revealed India's population has grown in the past decade to 1.21 billion - 11 of them carry the responsibility of keeping the rest happy.