Nigel Roberts seeks new Glamorgan culture
Last updated on .From the section Cricket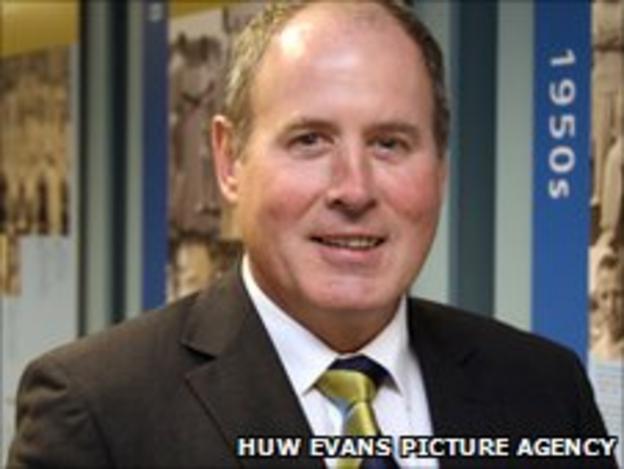 Glamorgan chairman-elect Nigel Roberts says he intends to create a new spirit of "openness, transparency and friendliness" at the club.
Roberts, who will take over from Paul Russell next season, says Glamorgan have focused too heavily on the business aspects over recent years.
"What I'm looking to bring to the party is a different culture," said Roberts.
"Members know my door will always be open. If they've got any concerns, I really want to hear them."
Glamorgan have spent almost £10m to develop their Sophia Gardens home ground into a venue capable of staging international cricket.
Despite initial reservations from within the game, the county gained widespread acclaim after hosting the first Ashes Test in 2009 at the newly-named Swalec Stadium.
Further international matches have been secured, but disgruntled club members say the quest to join the elite group of Test match venues has been to the detriment of Glamorgan's team.
Former captain Steve James has said the club has lost its soul, and Roberts accepts work needs to be done to reconnect with the supporters.
"We've already made some changes; kids will be allowed to play on the outfield between innings again," he told BBC Wales' Sport Wales programme.
"We'll be having some deck chairs around the outfield for Championship games - just to give that physical impression that there is a bit of wind of change.
"If we can be critical, I think sometimes you get so involved in running a business, you think of it all as a business."
Roberts stressed that hosting international matches at the Swalec Stadium and offering it as a conference centre remains at the core of the club's business plan.
But he said the overriding purpose of attracting those games to Cardiff was to generate money to allow the club to invest in a playing squad capable of winning trophies.
"Hospitality and conferencing - they are very important in terms of bringing revenue into the club," he said.
"International cricket the same - very important in terms of the money Glamorgan Cricket Club can actually make from hosting international cricket."
He added: "There's a lot of stuff riding on the back of international cricket, and hopefully we can make some money off the back of it that which can be reinvested into Glamorgan cricket."
Roberts' elevation to chairman-elect at March's annual general meeting came after a winter of turmoil at Glamorgan which saw the head coach, captain and president resign in protest over Russell's restructuring process.
Roberts himself resigned in December after failing to win support for his plan to succeed Russell as chairman. Three days later, he withdrew his resignation.
The loss of head coach Matthew Maynard led to the appointment of Australian Matthew Mott in Januray as his successor.
Mott, though, has been prevented from taking up his post in Wales by work permit problems, but Roberts said those issues will be resolved before the opening match of the season against Leicestershire on 8 April.
"It's hardly ideal," Roberts acknowledged. "You'd want the coach here working with the guys.
"He will definitely be here next week. Because he should have been here this week, I can guarantee he'll be here next week. He'll be here before we play out first First Class game."