Glamorgan's new coach Matthew Mott arrives in UK
Last updated on .From the section Cricket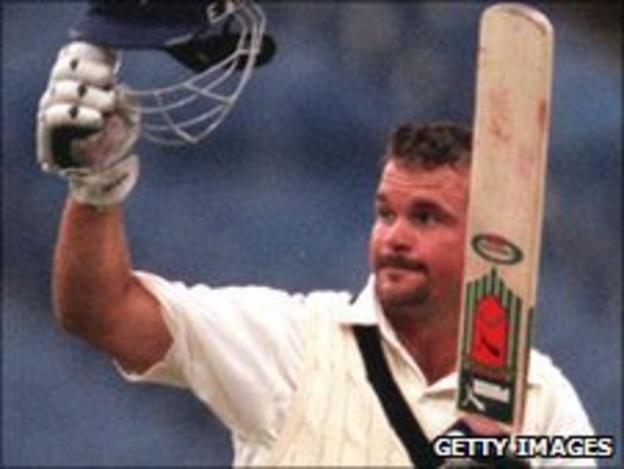 Captain Alviro Petersen has said that the arrival of new coach Matthew Mott is the final piece of the jigsaw for Glamorgan.
Mott has arrived in the UK, 48 hours before the County Championship opener at Leicestershire on Friday.
The former New South Wales boss had been delayed so that relevant police checks could be done.
"That is obviously the missing piece of the jigsaw for Glamorgan cricket," said Petersen.
"We've been in close communication, myself and Matthew, probably on a daily basis.
"Whatever I've been doing with the boys he knows exactly what's happening.
"I'm sure he'll come in and fit in like a glove. I think he's on UK soil and on his way to Cardiff which is a great boost. We can now move forward and do our job."
Petersen has picked the Glamorgan team with guidance from Mott for their Division Two opener at Grace Road on Friday.
Glamorgan managing director Colin Metson had insisted Mott's late arrival would not have a detrimental impact on the start of Glamorgan's season and had not affected their preparation for the new campaign.
"It is pretty much as planned, he is now on the plane and will join the boys for a net session on Wednesday," said Metson.
"There have been measures to keep in touch in place throughout the winter and Matthew has continued to work closely with the coaching staff throughout the winter.
"Matthew has been in touch via Skype and other various methods of communications so it hasn't really affected us too much.
"Alviro is the captain and is here and we've had a number of strategy days where Matthew has had significant input.
"Certainly it will help when Matthew is here and can see the players personally, see how they play and work with them on how to develop their techniques.
"He was certainly the best man of the job, we knew it was a long-term commitment for three years and perhaps more and we were prepared to wait."
Glamorgan, who had been 37 points clear at one stage, missed out on promotion to the County Championship's top flight on the final day of last season as they drew at Derbyshire in Cardiff.
That sparked a winter of discontent at The Swalec Stadium, where four major members of the Glamorgan management team resigned. Petersen was signed as skipper to replace Jamie Dalrymple.
Dalrymple subsequently left Glamorgan before Maynard quit for not being consulted and the club bringing in a new captain over his head.
President Peter Walker then resigned over the saga as did vice-chairman and main club sponsor Nigel Roberts - before Roberts rescinded his decision and is now set to replace long-term chairman Paul Russell this summer.