Glamorgan's James Harris targets England push
By Peter Shuttleworth
BBC Sport Wales
Last updated on .From the section Cricket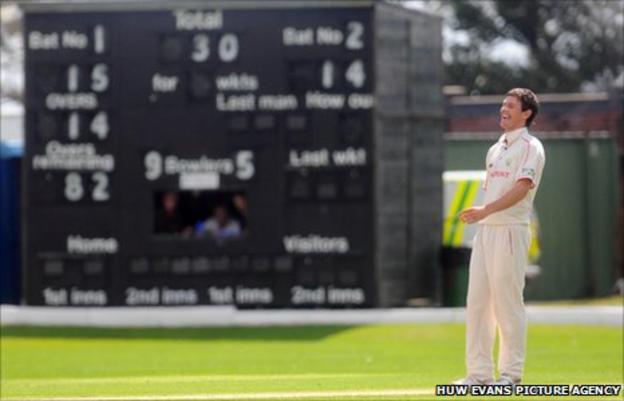 James Harris and Glamorgan have experienced differing winters, but both understand the forthcoming season is crucial for their development.
The Welsh county have endured a tumultuous close season and start the 2011 campaign with a new coach, new captain, new chairman-in-waiting and no president following bitter political infighting.
Harris, on the other hand, has been busy enhancing his reputation with international selectors as the 20-year-old bowler bids to become the 16th Welshman to represent England.
Glamorgan's much talked about young star claimed 14 wickets and scored a couple of half centuries when the England Lions - effectively England's B team - toured the Caribbean to polish the edges of those gems with an international future.
Harris was the first to applaud as his good mates Steven Finn, Liam Plunkett, Chris Woakes and latterly Jade Dernbach earned senior call-upss but wants to be "the next cab off the rank" into the England team.
"The England Lions is the place to be these days as England selectors are now picking from the Lions," the Glamorgan academy graduate told BBC Sport.
"So if you're in there, you have a chance as long as you are performing."
The Swalec Stadium is the one Glamorgan product that is earning most England recognition recently as after hosting the first 2009 Ashes Test, the ground will stage the summer's first Test against Sri Lanka in May and this year's final one-day international against World Cup winners India in September.
But Harris wants to show Glamorgan's players also have international capability.
"The main thing is to be talked about," said Harris.
"And being away with the Lions, that is maybe the case.
"I have to stay within the England framework and if I can keep performing for Glamorgan, and getting selected and performing for the Lions, that is hopefully the way of getting into the England senior team at some stage in the future.
"I don't want to put too much pressure on myself as I am only 20 and have a lot of learning to do but I want to be in a position that if the opportunity comes, I'll be ready to take it."
After England's Test heroes celebrated an Ashes triumph in Australia, the one-day side struggled at the World Cup on the subcontinent.
So Harris is just a little hopeful that England's selectors might want to "freshen up" the squad as English cricket starts another four-year cycle, with back-to-back Ashes series due in 2013 and 2013/14, and the next World Cup (in Australia and New Zealand) in early 2015.
And Glamorgan's record-breaking fast bowler certainly has high level support.
"He is definitely on the radar of the England team as I've seen his name crop up on a number of occasions," said England's 2005 Ashes-winning captain Michael Vaughan.
"There is no question he will get a chance over the years as with the amount of games the England team play, there will be a number of players used.
"He will not be far away but if he gets his chance, will he take it?"
Harris is encouraged that Dernbach, Finn and others have been on the conveyor belt from the Lions to Andrew Strauss's senior side but knows anything less than brilliant bowling on a consistent basis for Glamorgan this year could ruin any international dreams.
Harris may not be 21 until until May but things happen early for this Glamorgan record-breaker preparing for his fifth season.
He is the youngest to play for Glamorgan's reserves, aged just 15, the youngest one-day player at 16 before being the youngest player to take a seven-wicket haul in a Championship game against Gloucestershire in 2007, aged 17.
Harris then took hero Robert Croft's record as the youngest Glamorgan player to take 100 first-class wickets in 2010, in an impressive season where he took 63 wickets at an average of 20.52.
But the once skinny tyro has bulked into a fast bowling beast.
"I'm 7kg heavier than I was last September as I've been at England's strength and conditioning bowling clinic," he explained.
"I was sceptical initially as I believed I should be as light and as fit as possible so not to put too much pressure on my ankles and knees.
"But I didn't realise how much the strength helps. I may be heavier but being stronger and fitter helps cope with the stress of bowling better and I've added a yard of pace.
"It seems to be working as I bowled more than the other seamers in the Caribbean, in 30-degree heat on hard pitches, and I'm unscathed and feel stronger and fitter than ever."
What Harris acknowledges he must develop his batting to be classed as a genuine all-rounder.
"I feel I have what it takes to come in at seven in the batting order," he insists.
"I've been hitting thousands of balls in practice to improve my batting, as being able to bowl well and bat well is priceless in modern-day cricket."
Harris grew up in the Welsh village of Pontarddulais, just outside Llanelli, and down the road from Glamorgan legend and former England spinner Croft.
The mentor, who made his Glamorgan debut before Harris was born, still gives his pupil a ride to work and is always available for guidance or expertise wherever Harris may be in the world.
"He's always up for chat and sharing his knowledge as he has been there and done pretty much everything," Harris explained.
Harris' other guiding light is not bad either.
Dennis Lillee is one of the finest fast bowlers of all-time and the legendary Australian, who took 355 Test wickets in a 13-year career, has advised Harris at his renowned coaching clinic in Chennai.
"We spent 10 days tweaking a few things and talking bowling," recalled Harris.
"To chat to a great like Dennis, words can't describe how good an experience that is.
"He did a lot of technical stuff with the others but that was something I wasn't keen on doing as I am quite sound with my technique.
"The best thing I got from Dennis's time was what to bowl in certain situations, in certain conditions and on certain pitches.
"He advised at what stage I should sit in, when to bend my back and bowl fast or when to bowl cutters."
Harris has been given all of the help and guidance, now it is over to his as he starts a "big season" at in Glamorgan's County Championship opener at Leicestershire on Friday.
"This is my day job and where everything all stems from as good performances with Glamorgan get me into the Lions team," he said.
"There are people, including selectors, watching and putting a little extra pressure on me but that is something I want.
"I felt like the go-to man a few times last season and I relished that challenge. I want to be that guy people look at to get a wicket and change a game."