Revived batsman Mike Powell bids for new Glamorgan deal
By Peter Shuttleworth
BBC Sport Wales
Last updated on .From the section Cricket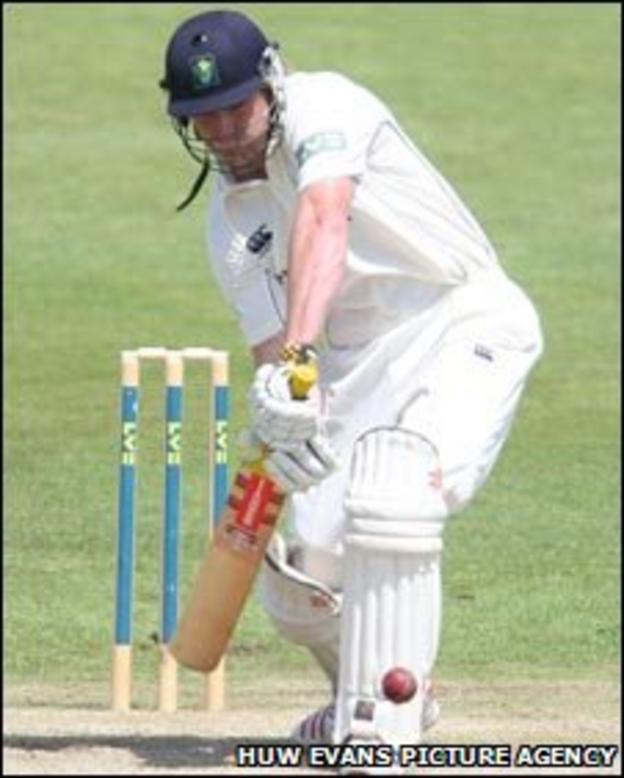 Mike Powell has offered to sign a new Glamorgan deal as the batsman aims to take his frustrations of last year on bowling attacks this season.
The 34-year-old played just six County Championship games in 2010 as he fell out of favour with coach Matthew Maynard and captain Jamie Dalrymple.
But Powell, in the final year of his contract, is hoping for a new lease of life in Glamorgan's new regime.
"The way to prove doubters wrong is scoring a lot of runs," said Powell.
Maynard and Dalrymple both left Glamorgan following a high-profile winter of turmoil following the installation of new signing Alviro Petersen as captain.
Tom Maynard, who was often chosen in the Glamorgan middle-order ahead of Powell last year, has followed his father out of the Swalec Stadium and joined Division Two rivals Surrey.
Now Powell is hoping to start Glamorgan's opening County Championship Division Two match at Leicestershire on Friday as new coach Matthew Mott and Petersen consider their options.
And Powell is desperate to show he has not lost his ability after a "difficult" season of inactivity.
"I'm looking forward to this season more than any for the past ten years," said the one-time England call-up.
"I played a lot less than I wanted to last season but those decisions weren't made by me and the people that picked those teams have now gone.
"I was the only member on the Glamorgan playing staff not to play a one-day game last year and I averaged 70 in the second team but it obviously wasn't good enough.
"It wasn't for me to knock down Matthew Maynard or Jamie Dalrymple's door, it was for me to score enough runs in the seconds to push myself into the front of the batting queue.
"Maybe they thought I didn't quite do enough. You can find an excuse to pick someone and you can find an excuse to drop someone. It was a tough set-up to get into.
"It was frustrating. But I've been told by the cricket manager, captain and chief executive that this is a fresh start for me.
"And at my age, to have a new captain and new coach feels quite refreshing and has revitalised me.
"But the only way to prove your doubters wrong is scoring a lot of runs, helping your team win games and bringing back trophies."
But Powell insists he is "sad" to see young batting rival Maynard leave.
"I wish he was still here," said Powell.
"With my record, I think I'm within the top four batsman at the club even with Tom in the squad so I'd like to think I would have been good enough to be in the first team."
Powell has averaged 38.90 runs since making his Glamorgan debut in their last County Championship winning season of 1997.
The Abergavenny Cricket Club product is in his benefit year at the Swalec Stadium and hopes to extend his Glamorgan deal beyond his current contract which expires this year.
Powell, who has scored 25 hundreds and 59 half-centuries in his 201-match first-class career, has spoken to Glam managing director Colin Metson about extending his Glamorgan affiliation to 16 seasons and beyond.
"It is my last year at Glamorgan which obviously adds more pressure to the start of the season for me," adds Powell.
"I've already approached Colin Metson to say I'd love to stay and I'd love to sign an extension so that is now in his court.
"I had offers to move away last season but I'm a Glamorgan boy and grew up wanting to play for Glamorgan."
Now the experienced number four batsman is ready to shoulder responsibility as Glamorgan, who missed out on a top-flight return on the final day of last season, bid for Division One promotion.
Powell helped Glamorgan to the 1997 County Championship in his first season before winning two one-day titles and now wants to offer guidance as Glamorgan aim to fulfil their season objectives.
"We had a meeting and there is talk of getting promotion in the four-day competition," revealed Powell.
"We're also looking for a home quarter-final in the Twenty20.
"We have our plans written down and we've all agreed that these are all obtainable goals. They are now up on the changing room wall for us to look at every game."