Pakistan's Haider returns home after ending asylum bid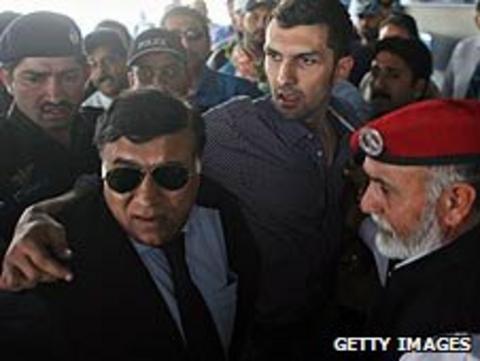 Former Pakistan wicketkeeper Zulqarnain Haider has returned home from London after withdrawing his political asylum claim in Britain.
Haider fled to London from Dubai in November after receiving death threats when he refused to fix two matches.
But after gaining security assurances from Pakistan interior minister Rehman Malik, Haider flew home on 24 April.
"I spoke to Zulqarnain [on Sunday] and reassured him that he and his family will be perfectly safe," said Malik.
"He will be given full security as promised. He is a citizen of Pakistan so there is no restriction on his movement."
Malik has also revealed that Scotland Yard are looking into fresh death threats Haider said he had received last week.
Haider, who arrived in Islamabad on Monday, said: "I am happy to return.
"No sensible person would sacrifice an international cricket career and flee to another country to seek asylum. I have my reasons for doing that.
"I am keen to return to playing cricket and I am satisfied with the assurances about security given by the government."
Haider flew to London after claiming he had been approached in Dubai by a person who asked him to fix the fourth and fifth one-day internationals against South Africa, who won the five-match series 3-2, in November of last year.
But days later the 25-year-old left Dubai bound for London, claiming the individual involved had threatened to kill him and his family if he did not comply with the match-fixing demands.
After arriving in England, the wicketkeeper immediately applied for political asylum before announcing his retirement from international cricket, while the unimpressed Pakistan Cricket Board (PCB) imposed a lifetime ban.
Haider had threatened in February to "name and shame" players he believes are engaged in corruption in cricket after cooperating with the International Cricket Council's Anti-Corruption and Security Unit (ACSU).
Now Haider has rescinded his asylum application, the PCB may overturn his ban, although he will have to go through a disciplinary process for breaching the players' code of conduct and his contractual obligations by leaving the team without informing management.
The PCB could allow Haider, who has played one Test and four one-dayers, to come out of retirement and resume his international career as Pakistan's wicketkeeping crisis continues.
Kamran Akmal spilt a number of catches and missed some stumping opportunities during the recent World Cup and he has been dropped in favour of the uncapped Mohammad Salman for Pakistan's tour of the West Indies, which began earlier this month.