Yorkshire's Gibson breaks English first-class record
Last updated on .From the section Cricket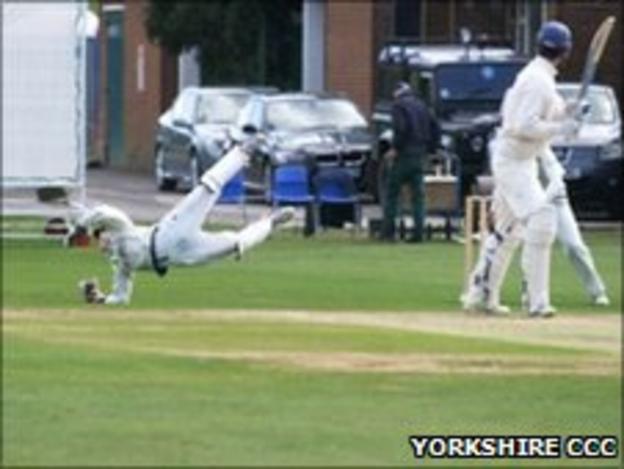 Yorkshire's Barney Gibson has become the youngest English first-class cricketer - aged 15 years and 27 days.
Wicketkeeper Gibson took two catches during an 81.2 over stint behind the stumps in the three-day game against Durham University on Wednesday.
Previous record holder Charles Young was 104 days older when he played for Hampshire against Kent in 1867.
"For the first couple of overs I felt a bit shaky, then I tried to be myself, stand there and catch it," Gibson said.
"It feels excellent to have gone into the history books," added the Leeds-born gloveman, who spent four years with the academy of Championship football side Leeds United as a goalkeeper prior to pursuing a career in cricket.
The teenager, a pupil at Crawshaw School in Pudsey, was given special dispensation to play in the match, which also featured England pace bowler Ajmal Shahzad.
"On a normal Wednesday I would have had science three times, maths and RE (religious education) so it was not a bad day to miss. The school set me work to do while I am here so I will have to get cracking on some business studies," Gibson explained.
Coach Martyn Moxon was not surprised by the teenager's smooth elevation to the first team.
"He did really well. He has kept in our second XI for a few games this year and a couple at the end of last season and not been fazed by it," the former England batsman told BBC Radio 4's Today programme.
"He's very unflustered, he knew exactly what he needed to do in terms of preparation and got on with it without any fuss which is a measure of how mature he is.
"It's a fantastic achievement which will take some beating. He's got to get his school work out of the way first but he's a tremendous lad and hopefully he'll do well in his career."