Hashan Tillakaratne stands by match-fixing allegations
Last updated on .From the section Cricket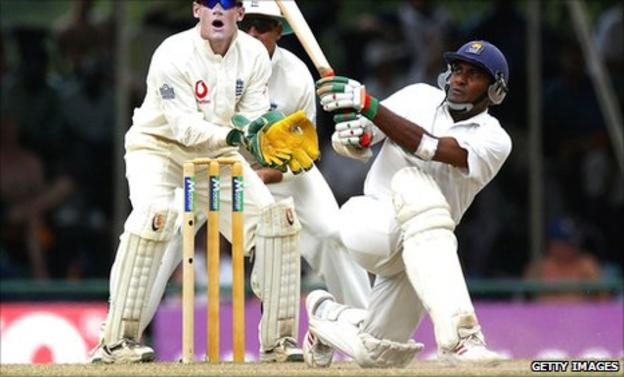 Former Sri Lanka captain Hashan Tillakaratne has vowed to reveal full details of match-fixing that he alleges took place during his career.
Tillakaratne and ex-team-mate Arjuna Ranatunga claim fixing has been common in Sri Lankan cricket since 1992.
The Sri Lanka Cricket Board called on the pair to substantiate the claims and queried why they have only emerged now.
Tillakaratne says he will provide the International Cricket Council with information "at the appropriate time."
The 43-year-old added: "I made a statement to the provincial council, I said that I still maintain my stand on the allegations.
"After I came out with these allegations [at the weekend] I have been getting a lot of nuisance calls, death threats, but definitely I will expose all those who are involved in a time to come."
When asked why he has not followed the established procedure of working with the ICC's anti-corruption unit, Tillakaratne replied "I will do that in the days to come."
Several international players including South Africa's Hansie Cronje, India's Mohammad Azharuddin and Ajay Jadeja, and Pakistan's Salim Malik have been found guilty of match-fixing and served bans in the past decade, although Jadeja and Malik later had their bans quashed.
Most recently, Pakistani players Salman Butt, Mohammad Asif and Mohammad Amir were banned for five years or more after being found guilty off corruption by the ICC.
Tillakaratne played 83 tests for Sri Lanka from 1989 to 2004, scoring 4,545 runs including 11 centuries.
He scored 3,789 one-day runs from 200 matches between 1986 and 2003.