Collingwood hurt by England Twenty20 captaincy snub
Last updated on .From the section Cricket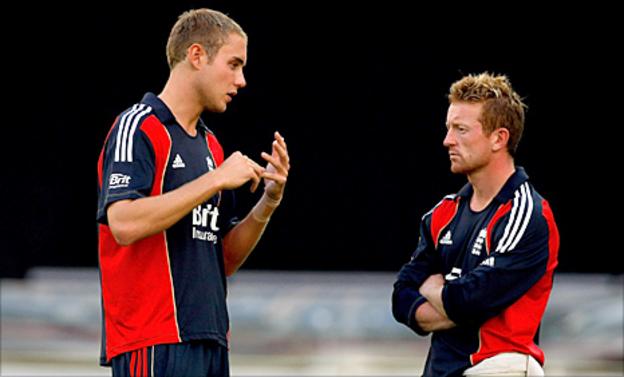 Paul Collingwood has spoken of his "disbelief" at being replaced as England Twenty20 captain by Stuart Broad.
The all-rounder led England to the ICC World Twenty20 last year as well as a record eight straight short-form wins.
But he was told he would no longer be leading England 24 hours before a new tri-captaincy structure was announced.
"It was like a juggernaut had come along at full steam and completely wiped me out, just disbelief," he said.
Collingwood, who retired from Test cricket in January following the 3-1 Ashes series victory , had been hoping to lead England in two Twenty20 internationals this summer against Sri Lanka and India as he recovers from a knee operation.
But the 34-year-old said he had no inkling he would be sacked as captain before he received a telephone call from national selector Geoff Miller on Tuesday evening.
"I was full of optimism about trying to regain my form and my place in the one-day side," the Durham man told the Mail on Sunday.
"As for the longer term, after retiring from Test cricket in the winter I had my sights set firmly on leading our defence of the World Twenty 20 Cup in 2012.
"I felt a bit uneasy when I took the call.
"'The problem was, try as I might, I couldn't think what else he would need to see me about. Then again I thought to myself, 'Hang on, I've been captain of a side who've won the World Cup and set a world record. Can they really sack me after that?' All in all, I had a pretty sleepless night.
"We met at 0830 [on Wednesday] and while I had prepared myself for the worst, no one can prepare themselves for the words when they come. I had been trying to convince myself that it wasn't going to be the news I feared. But unfortunately it was.
"What was so horrible was that I knew the decision had been made. It was not as if I could ask for a recount. I was devastated, gutted.
"We had met so early because I had to get to London to present ITV4's IPL coverage. But once the meeting was over, I had to call the studio and tell them I couldn't go on. I felt bad about letting them down, but I was in a state."
In the statement released by the England and Wales Cricket Board on Thursday, Collingwood said it had been a "privilege" to captain his country.
But Collingwood said he will now consider his future, although he stressed Miller had not closed the door on his international prospects.
"While it would be madness to cut things short straightaway, the future is far less clear than it was four days ago. I have some thinking to do," he added.
"I want to make it clear I totally support Stuart Broad as my successor. He has the kind of fast-thinking brain that you need in Twenty20 captaincy. And I understand the thinking that the team moves forward and people only have a certain shelf life.
"But even though I understand all that, it doesn't make it any easier to take and it doesn't mean I agree with it. I'm still very disappointed and hurt by what has happened."