International cricket's review system set for wider use
Last updated on .From the section Cricket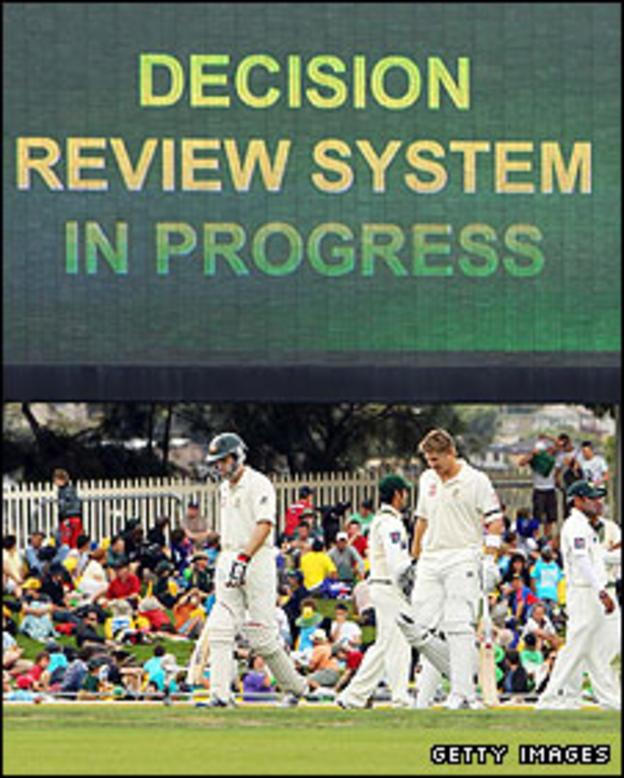 The International Cricket Council is to consider a recommendation to introduce the Decision Referral System (DRS) in all forms of the international game.
DRS technology is currently optional in Tests and one-day internationals, with teams deciding before each series whether to use it, and not used at all in Twenty20 matches.
But members of the ICC's Cricket Commitee have backed its wider use.
Their recommendation will be discussed at a full ICC meeting next month.
The system was used successfully at the World Cup earlier this year, although winners India have been vocal opponents of DRS in the past.
And their reluctance to endorse it continued on Thursday.
BCCI secretary Narayanswamy Srinivasan said: "The cricket committee is just a sub-committee and it can only make recommendations, it is for the executive board to ratify them or not.
"We will oppose it at the executive board because the DRS in its present form is unacceptable to us."
DRS allows teams to refer decisions made by the on-field umpires to a third match official, who uses video replays and various other devices to help reach the correct decision.
Former West Indies captain Clive Lloyd, the chairman of the ICC's cricket committee, said: "The recommendation shows the group's confidence in the system and it also highlights the committee's view that it does aid the umpires in making correct decisions."
The ICC's general manager of cricket, David Richardson, said improvements in technology made using it a safe choice.
"The level of believability in ball-tracking systems has improved," he said. "Hopefully, member boards and the India board will take cognisance of that.
"We need consistency. It confuses the players and viewers if one series has DRS and the other not. Let us use it in every series possible."
Meanwhile, the viability of floodlit Test matches will continue to be explored by the commitee.
A pink ball has already been trialled in first-class cricket in Pakistan this year but the ICC have recommended that all nations test the ball in their four-day competitions to ensure it is up to standard.
"The ICC remains determined to explore the possibility of day-night Test cricket, but at the same time we have to ensure the integrity of that format is also protected," Richardson added.
"The further trials proposed by the committee are a reflection of the fact we want to make sure that the pink ball is sufficiently durable to stand up to the rigours of first-class cricket."