England Lions trio in Test team shoot-out
By Sam Sheringham
BBC Sport
Last updated on .From the section Cricket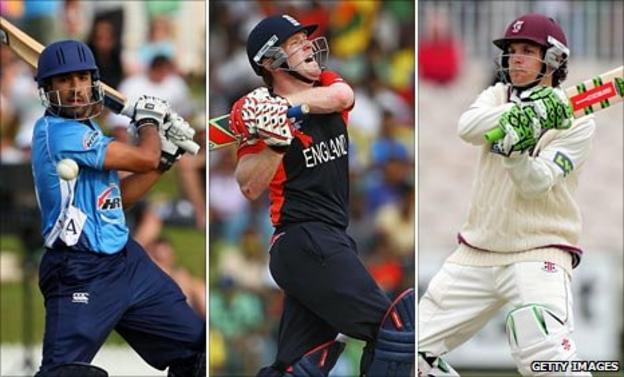 Wanted: a batsman capable of slotting seamlessly into an Ashes-winning England team and help them achieve their goal of becoming the best in the world.
Paul Collingwood's retirement from Test cricket has created a vacancy in the England middle order ahead of a summer featuring home series against Sri Lanka and current world number one India.
With the squad for the first Test to be announced on Sunday morning, leading contenders Ravi Bopara, Eoin Morgan and James Hildreth have the chance to stake their claim for the role by scoring big runs in the England Lions' four-day game against Sri Lanka at Derby, starting on Thursday.
Bopara is the favourite after scoring two centuries for Essex in the County Championship this season. He is also the only one of the three who offers a bowling option, to help compensate for the loss of Collingwood's handy medium pace.
Morgan played all six Tests in England last summer before losing his place to Ian Bell, but he was a member of the Ashes squad in Australia and is a fixture in the England one-day and Twenty20 side.
Somerset batsman Hildreth proved an inspired choice as Lions captain for their Caribbean tour over the winter - scoring 546 runs at an average of 60.66 - and is probably at the front of the pack if the selectors opt for fresh blood.
Ahead of the three-way shoot-out in Derby, we asked coaches who work with the talented trio to put forward the case for their inclusion.
RAVI BOPARA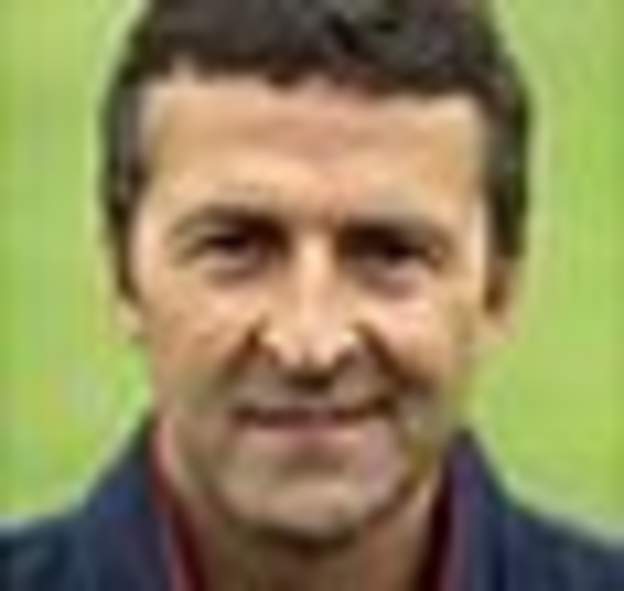 PAUL GRAYSON, Essex coach
One of the most important things in any side is balance and to me Ravi fits the bill perfectly because of his all-round abilities.
He's playing well at the moment with the bat and has taken some handy wickets with the ball. We would miss him because he's a class player but he deserves to get back into the England Test side.
I think he has matured a lot in the last year. He went to South Africa over the winter and worked with Graham Ford and he enjoyed that immensely. He is moving his feet really well and scoring lots of runs.
When Ravi first broke through, he was this cheeky little Indian boy with a porky belly. But you could see that he had serious talent and a natural eye for the ball.
I remember five or six years ago, we played Pakistan at Chelmsford. Shoaib Akhtar was steaming in at a good pace and I remember Ravi rocking on the back foot and punching it straight past him for four. Every single person who was in the dressing-room that day remembers that shot. You thought "If he can play that shot, this boy is class."
When Ravi is playing at his best, he just plays on instinct. I worry about Ravi when he's not scoring quickly, that is not his natural way to play. I think in the past playing Test cricket, when he was batting at three, he may have gone into his shell too much, and maybe tried to play too perfectly and correctly.
If he bats at six he has got to be a counter-attacking player and take it to the opposition and that should suit his natural game. He has got to get that feeling back he had as a kid, see the ball and hit it. He has all the shots in his locker, it is just about him selecting the right ones at the right time.
I also think Ravi's bowling has been a bit underused in the past. He's one of those lads who gets better the more he bowls. If he's plucked from nowhere for a short spell he is always a bit rusty and he goes searching for wickets. But when he bowls consistently, he is a canny bowler. He swings it at a skiddy pace and I think he could bowl 10-12 overs a day in Test cricket.
The one downside is that he has his dopey moments, when he doesn't endear himself to the manager. He might be a little bit late for meetings, or wear the wrong item of clothing or something like that.
So we decided to give him the vice-captaincy this season. We wanted to give him a little bit more responsibility around the dressing room, get him to speak up a bit more because when you have to speak up you have to back it up.
Early in the season he was scratching around a little bit but in the last couple of weeks he has found is feet and is right on his game.
EOIN MORGAN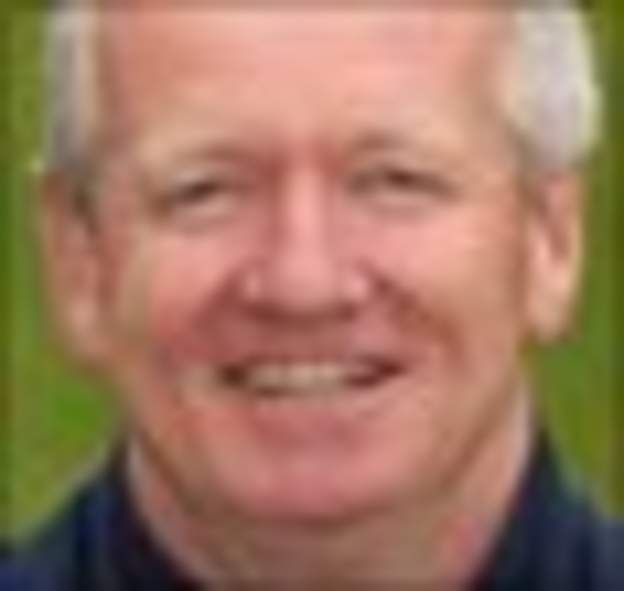 RICHARD SCOTT, Middlesex coach
It's a big challenge for Eoin because over the duration of the winter he has been very much concentrating on the shorter versions of the game, with white balls and innovations, and now he has a very short space of time to prepare himself mentally and technically to deal with the red ball.
But he is incredibly tough mentally. He has incredible inner drive and the fight it takes to be an international-class player.
He is a coach and captain's dream because he is a true team player. He doesn't make excuses and he plays for the cause. He learns very quickly, he gives 100% every time he takes the field and he demands that from his team-mates.
He is very aware of his technical limitations and where he can and can't score and he adapts very quickly. He's very young, he's come a long way in a short period of time but he's got all the attributes and he's not going to let anyone down.
Eoin has been typecast as a one-day player but he knows when to rein in his natural attacking flair. In a County Championship game against Sussex last year, he had to block out for a draw for a couple of hours and he did that manfully on a difficult pitch at Uxbridge.
I remember arriving at Middlesex four years ago, seeing Eoin in the nets and thinking he was just a sublime talent.
He showcased his skills mainly in the Twenty20 competition for us and was fast-tracked into the England one-day team. I think his success in that team gave him great confidence which he has carried through to the longer form of the game.
You can understand why Andy Flower likes him so much and why they like having him around the England dressing-room. He's got a calm about him that rubs off on other players, but as soon as it is his turn to cross the white line, he's incredibly focused. But the thing that impresses me is that he doesn't flower it up at all. He's just straight to the point and moves on.
We identified him a couple of years ago as a possible contender to succeed Shaun Udal and he captained the side at Canterbury against Kent. They were a strong Kent side who were going for promotion and we were struggling a bit back then, but Eoin was brilliant. He got the best out of the team, led from the front and we won that match. He is definitely a leader in the making.
JAMES HILDRETH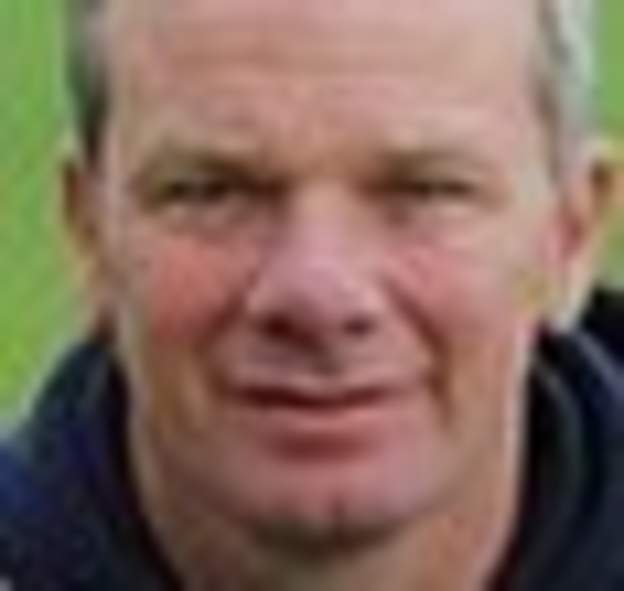 MICK NEWELL, England Lions coach
James is ready to play international cricket - I don't think there is a weakness in his game.
He is a good player of quick bowling, strong off the back foot, scores at a good rate and likes to dominate and get on top of the opposition. He is good between the wickets as well.
I think he has understood a lot more about his own batting in the last two years. He is scoring a lot more runs away from Taunton and his all-round game is in a better position. He played a lot of first-class cricket very young and only now knows where to score and who to score off.
He was outstanding for the Lions in our tour of the West Indies.
He made an excellent hundred against the Leeward Islands, where we were 134-3 and he put on 221 with James Taylor. He started off with lots of aggressive running between the wickets, making lots of singles to put the pressure back on to the opposition, and then started finding the boundary later on.
He made lots of other good contributions throughout the whole trip.
James would be ideal batting at six, because you have the opportunity to take the game away from the opposition if your top order have done the job. If England bat into the second day he could bat aggressively and score well, but he could also take the singles and give someone else the strike if that was required.
The one thing he doesn't do is bowl so if England want to go for a number six who bowls then Bopara has an advantage. But James is a decent slip fielder, which I don't think Bopara or Morgan necessarily do, and if they want a high-quality batsman then he has as good a chance as anyone.
James is a very calm, mature and conscientious character. He's very fit, very determined and unflappable at the crease.
His record in one-day cricket at Somerset, it is outstanding. I wouldn't pigeon-hole him as one type of player. If he does get a breakthrough somewhere this summer he could easily end up playing for England in all forms of the game.