Spinner Terry Jenner, mentor to Shane Warne, dies at 66
Last updated on .From the section Cricket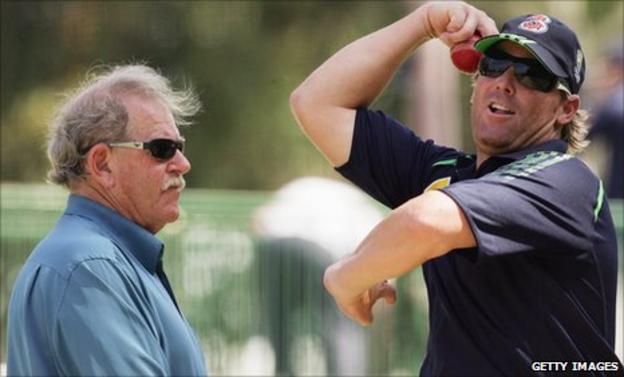 Former Australia leg-spinner Terry Jenner has died at the age of 66.
Born in Mount Lawley, Perth, Jenner played nine Tests between 1970 and 1975, taking 24 wickets.
But his greatest contribution to world cricket was as a coach and mentor for Aussie leg-spin legend Shane Warne, who retired from cricket last week.
"Very sad day since hearing of my great friend's passing. He was an amazing man, full of knowledge and wanted to share it," Warne wrote on Twitter.
"He gave up so much of his time for cricket and spin bowling.
"My sympathy to all of his family - the great man will be missed."
Former Australia captain Allan Border added: "Terry was a very, very strong influence on Shane Warne. That says it all.
"There's not a spin bowler in the country who hasn't had any time with Terry Jenner. He's just one of those fellows who connected to the younger generation. He was just so passionate about it."
Jenner had previously suffered a heart attack in April 2010 while in England, and passed away in Brighton, a suburb of Adelaide, on Wednesday.
"He wanted to be at home with his family and we were able to share the last few days with him," his wife Ann wrote on his blog.
Jenner's funeral will take place at the Adelaide Oval.
His own first-class career began in 1963 but he had to wait seven years to make his Test debut, which came against England at Brisbane during the 1970-71 Ashes series.
Batting in the next match at Sydney, Jenner was hit on the head by England pace bowler John Snow, which provoked an angry reaction from the crowd after Snow was warned by umpire Lou Rowan. England captain Ray Illingworth led his team off the field in protest.
Jenner also played Minor Counties cricket for Cambridgeshire in 1972 after being left out of Australia's tour of England but he was back in the side the following year and produced his best performance against West Indies when he took 5-90 in the first innings.
Despite that, he was never able to hold down a regular place in the Australia side and played his last Test two years later.
He served a prison sentence for embezzlement in the 1980s, but turned his life around after meeting Warne, who he coached from the early 1990s.
Warne made his Australia debut in 1992 and went on to become one of the outstanding spin bowlers in the history of cricket, taking 708 wickets in 145 Tests, and a further 293 in 194 one-day internationals.
But Jenner remained the man to whom Warne would turn throughout his career, if he encountered a problem with his bowling, and he also worked with a number of other leg-spin bowlers, both in Australia and around the world.
Speaking last year about Jenner's influence on his career, Warne said: "He's been a great support to me over a long period of time.
"There was a lot about particular deliveries, or how you think about deliveries, how to set up batsman, how to have a plan, all those different types of things, and also he helped me believe in myself. He taught me a hell of a lot."
Jenner was also hired by the England and Wales Cricket Board (ECB) to coach the most promising leg-spinners in the country as part of their wrist-spin development programme.
Yorkshire's Adil Rashid, Durham's Scott Borthwick and Sussex's Will Beer all spent time at Jenner's cricket school in Adelaide during the winter.
England spin-bowling coach David Parsons, who worked closely with Jenner during the English summer, said his genorosity and humour would be greatly missed.
"Terry shared much of himself with everyone he met and I was fortunate to be the recipient of much of this - his fire, his passion, his knowledge, his skills, his humour, his home, his family and his generosity," said Parsons.
"I have memories of Terry that will stay with me forever. He was a wonderfully engaging figure and there can be no doubt that his legacy will live on through the careers of the many coaches and players he inspired and influenced both in this country and overseas."