Farewell to Spin Doctor Terry Jenner
By Pranav Soneji
BBC Sport
Last updated on .From the section Cricket
As first encounters go, being stared at by the man who turned Shane Warne into a leg-spinning wicket-taking machine while he smoked a cigar the size of a submarine torpedo takes some beating.
The eyes of Terry Jenner, who passed away on Wednesday, were hidden from the early-morning June sun by a steel-framed pair of aviator sunglasses, but they did not prevent them from boring into my face as he wondered why he should divulge his leg-spin secrets to the nervous individual standing before him.
Fortunately, the deal to film his leg-spinning masterclass and its varieties had been done a few weeks before our initial encounter during the unforgettable Ashes summer of 2005.
My job with the Sport Academy website had been to break down the complexities of cricket ahead of the most eagerly anticipated summer Test series in years.
We had already filmed England fast bowler Matthew Hoggard explaining swing bowling and wicketkeeper Geraint Jones on the arts of the stumper, but the one big thing missing was the Warne factor.
The man himself was impossible, but what about his mentor?
After an encouraging exchange of emails, 'TJ', who was in London as part of his coaching duties in the England and Wales Cricket Board's wrist-spin development programme, agreed on a date - we arranged the venue and everything else in between.
We met outside his north-west London hotel at 0930, where I found him outside smoking the aforementioned cigar, merrily chugging away with a steaming cup of coffee in close proximity.
The first thing that struck me through the fuggy plumes was the pretty blonde lady sitting next to him - his wife Ann. "We need to drop Ann off to the hairdressers before we go and do our stuff. Know any good hairdressers?"
Not exactly what I expected to open my conversation with.
His accent was thick, pure, sandpapery Australian, complete with a sense of humour to match.
TJ took one last, lusty chug of his giant cigar and pounded the remainder into an ashtray before he and Ann piled into the car alongside my former editor Steve Cresswell and cameraman Paul Redgrove.
After finding a suitable establishment to take care of his wife's hair, we drove off towards Finchley Cricket Club to use Middlesex's indoor facilities.
Steve had arranged for a young batsman to be our "dummy" but TJ took one look at him and said "naaaah - it ain't gonna work with him. If you wanna see me turn the ball, you don't need a batsman."
Perplexed, we grudgingly told the batsman we did not need his services - but after setting up our cameras, we understood why TJ was so insistent.
Even at the age of 58 with a one-step run-up, he could turn the ball more than any English spinner you could think of.
Every single ball landed on middle stump, turned a good 12 inches away from off and into my hands behind the wicket. And that was just the warm-up.
With the camera set up behind the wicket, the absence of a batsman allowed the viewer to see the flight, pitch and spin of every single delivery - an eye-opening marvel.
As TJ was warming up, I reached for my script to run through what we needed from him. He took one look at me and said: "I don't need that."
He improvised with the cameras rolling, adding all his TJ extras in the process, including introducing himself as the 'Spin Doctor'. All I had to do was catch his deliveries at the other end.
His additions were revelatory - scrawling "invite the batsmen to drive" on a good length to encourage the prospective leggie to flight the ball, as well as running through his incredible repertoire of variations; the top-spinner, googly, flipper and back-spinner.
He became so carried away at one point, he even unleashed his two "top-secret" deliveries perfected by former Australian tweakers John Gleeson and Jack Iverson, the mystery spinners of their time, although he asked me not to include those in the final edit.
The sweat was dripping off his forehead after 90 intense minutes, but our cameraman Paul was not convinced. His argument was any batsman could saunter down the track and muller the leggie over Cow Corner.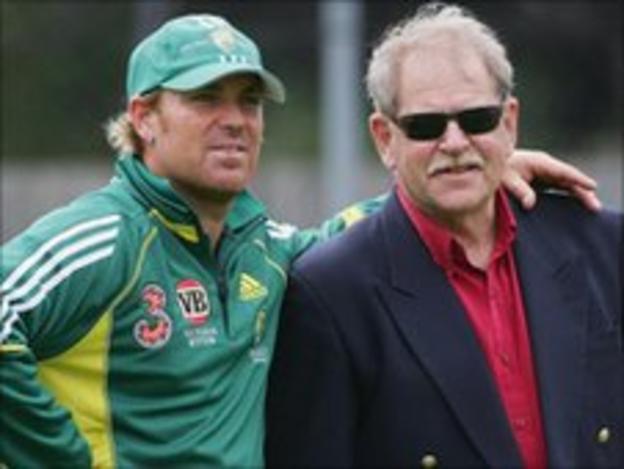 TJ's face was a picture. After instructing Paul - whose knowledge of cricket was on a par with his knowledge of the physics of Foucault's Pendulum - to take a bat and attempt to take a swipe at his bowling, our embarrassed cameraman was cleaned up so many times it bordered on cruelty.
Fortunately, Paul's editing skills were more capable than his batting. You can see the results of our two-hand-a-half hours with TJ at the top of this piece.
I had kept in sporadic contact with TJ over the years, particularly in relation to the young English spinners who would spend three weeks with him at his academy in Adelaide, but he would never enthuse about them.
He was not an easy man to please, no doubt Adil Rashid, Scot Borthwick and Will Beer, who all spent time with TJ in South Australia, would attest to something similar.
But TJ was engaging company, intelligent and incredibly knowledgeable - and when he talked about leg-spin, you were compelled to listen. Every word was a nugget to be cherished.
I only wish I could have had a few more to improve my awful attempts at a googly.