Jonathan Agnew column: England need to take the initiative

By Jonathan Agnew
BBC cricket correspondent at Cardiff
Last updated on .From the section Cricket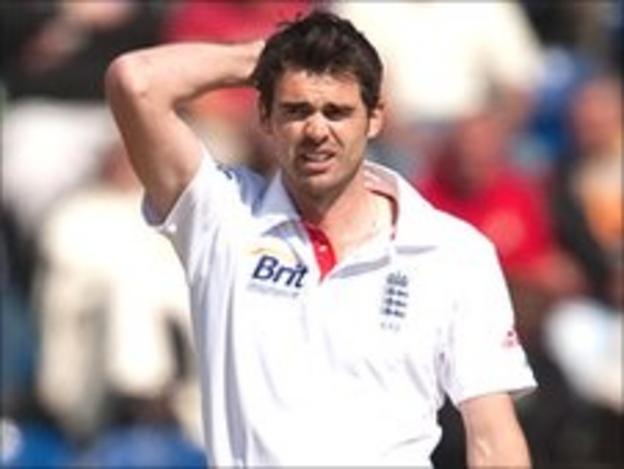 Saturday wasn't the most entertaining day by any means and you have to pay credit to the crowd for sticking it out.
Alastair Cook and Jonathan Trott played well, but there wasn't really any other way for England to play. They had to just put the thing to bed and make sure there weren't any slip-ups.
It would have been nice to see them both play as positively as they did in the last hour a little earlier but realistically the game doesn't seem to be going anywhere. England are a bowler short due to the injury to James Anderson and the weather looks horrible.
So all in all, it was a case of making sure nothing goes wrong and seeing where they are at lunch on the last day. Maybe they could try and embarrass Sri Lanka a bit in those last two sessions.
Anderson's injury kills the game as a contest. You don't pick five bowlers for fear of one getting injured - that is absolutely the wrong way to do it. But it is a sickener when it does happen because it leaves you in an impossible situation.
Looking forward, when you do look at the way Sri Lanka have bowled today I really hope that England show they can still be flexible. They are so rigid in this plan of four bowlers and will not entertain the thought of playing five bowlers.
Successful teams are ones who can adapt to different scenarios. If four is your best policy, and it was in Australia when Graeme Swann played a leading role - coming on early, bowling lots of overs and keeping it tight - then fine, but not against teams like this.
If they can't score enough runs against this attack with five batsmen and Prior then that is really disappointing. They should pick five bowlers, especially in these conditions when you want to bowl attackingly. I want to see England take the initiative.
With Anderson possibly out of Lord's, I hope England think they can score enough with five batsmen. But I don't think they will. I think they will bring in a replacement bowler and stick with four.
Graeme Onions would be my pick to replace Anderson. He would bowl a good full length which you need in these conditions and against Sri Lanka's batsmen, who aren't used to the ball moving around.
However, I'm not sure how fit he is and him breaking down would be a disaster. But they have also got Tim Bresnan, Chris Woakes, Ajmal Shahzad and Jade Dernbach, all of whom would do a good job.
Jonathan Agnew was speaking to BBC Sport's Phil Dawkes.