Jonathan Trott - England can go on and beat Sri Lanka
Last updated on .From the section Cricket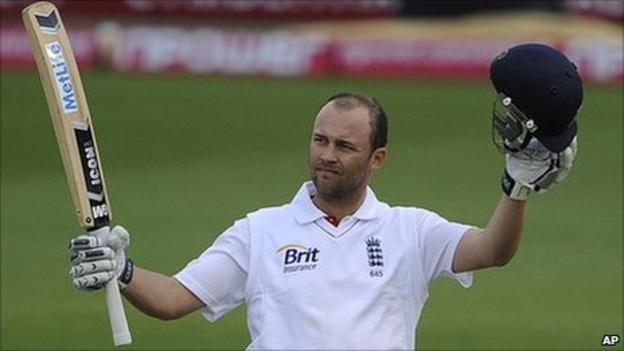 England's double centurion Jonathan Trott refused to rule out a home win after leading the hosts to a 91-run first-innings lead over Sri Lanka by the end of day four in Cardiff.
Despite the forecast of rain on Monday, Trott - who scored 203 in England's 491-5 - said: "Hopefully we can kick on Monday and get further ahead of them.
"The good thing is they were turning it, so Graeme Swann comes into play.
"We just have to pray the Welsh weather plays in our favour."
In a Test that has been heavily affected by the weather, play was again delayed on day four.
But when play finally resumed at around 1430, England pushed on - despite the losses of Alastair Cook and Kevin Pietersen - as Trott combined steadfastly with Ian Bell in a 160-run partnership.
The plan must now be to kick on the final day with a view to a declaration, and then taking 10 Sri Lanka wickets - all weather permitting.
"We can't control the weather," added Trott. "We just have to prepare as if we're going to get a full day's play and if we do I think we're in the game.
"I know that the weather's a bit iffy early on Monday, but it should improve later on."
And even if a result cannot be forced, Trott insisted there was plenty for England to play for, saying: "There's a lot there for us to get out of the game.
"The next Test starts Friday so if we get out there we'll look to use the new ball and then get Graeme [Swann] into the game. I think there's quite a bit of turn out there.
"It's the type of wicket where it's standing tall, it's bouncing quite a bit, so perhaps an in-out field with men around the bat could get results. Whatever Andrew Strauss comes up with I'm sure will be good fields, though."
On Pietersen, who was again the victim of a left-arm spinner - Rangana Herath - for just three, Trott insisted that the team and supporters alike needed to get behind him.
It was the 19th time in 61 innings Pietersen fell to a left-armer, but Trott said: "What we have to do now is get behind Kevin and realise what a good player he has been for England and will be again. He's looked tremendous in the nets and has been in good form for Surrey.
"I just think a few have kept a bit low on him but, hey, that's cricket. Come Lord's [and the second Test], who knows, it could be a big hundred for Kev."
Listen to Jonathan Agnew and Geoff Boycott's review of each day's play on the TMS Podcast page