Jonathan Agnew column: Sri Lanka switched off and it cost them

By Jonathan Agnew
BBC cricket correspondent at Cardiff
Last updated on .From the section Cricket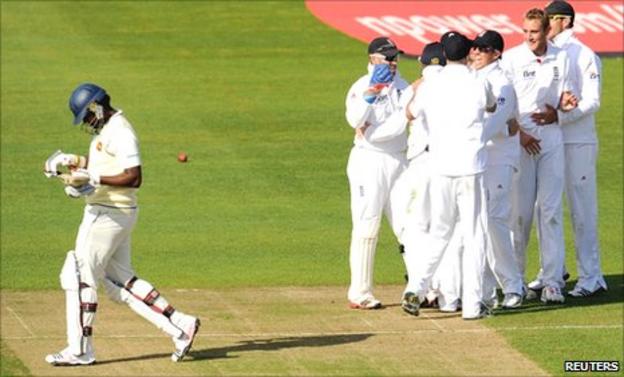 There were very few people in the stadium in Cardiff to see one of the most extraordinary England wins in recent years and I suspect that they, like the rest of us, could not believe what they saw.
It was a bit like watching an under-10s cricket match, with one team getting rolled over for 20. It came from nowhere, without the great build-up or pressure you would expect in games with such dramatic finishes.
I've never seen anything like it.
Sri Lanka must be honest, put their hands up and admit that this was a disaster.
They clearly did not have their mind on the job, which is unforgivable. They may not have known when they would bat, but they knew they were going to have to at some stage.
There were some superb balls: the one Chris Tremlett bowled to Mahela Jayawardene, while Graeme Swann's dismissal of Sangakkara was beautiful off-spin bowling.
But there were also some terrible shots, from a panic-stricken side, created by England pressure.
There was some truly awful cricket from Sri Lanka and it stemmed from their mental position because they saw the rain yesterday and this morning, assumed a draw was on the cards and switched off.
And it just shows what can happen in cricket when you do that, you get blown away.
In contrast England's attitude was outstanding. They could have gone out there and gone through the motions but instead they came out determined to inflict damage.
Their main priority at the start of the day was for Bell to get his hundred, otherwise they would have declared straight away and attacked Sri Lanka from the off.
They had no realistic designs on winning the game. It was more about giving the bowlers some good spells, getting some movement in Broad's legs.
So for them to come out and play with that level of preparedness, skill and commitment having been sitting around just as much as Sri Lanka speaks volumes for the players, the captain, the coaching staff and the whole mental state of the team.
I think Tremlett is a real confidence bowler. I have played with a few of those and they are very dangerous when they get an early wicket.
As soon as he got Tharanga Paranavitana, he was in the hunt and he got some steep bounce and was up round the ribs and the throat of the Sri Lankan batsmen.
Jonathan Agnew was speaking to BBC Sport's Phil Dawkes.
Listen to Jonathan Agnew and Geoff Boycott's review of each day's play on the TMS Podcast page