Jonathan Agnew column: Rain helps Sri Lanka position

By Jonathan Agnew
BBC cricket correspondent at Lord's
Last updated on .From the section Cricket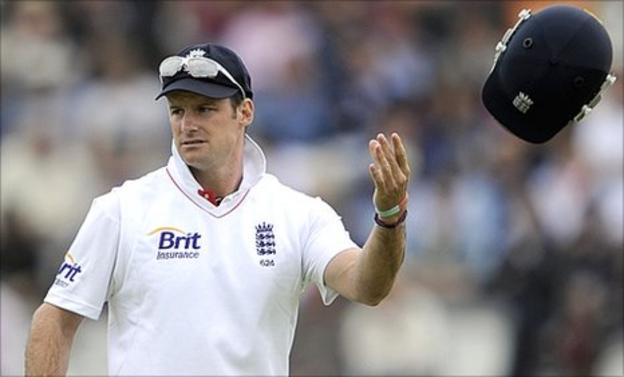 It is always frustrating for the fans when rain and bad light stops play, but there's nothing you can do about it except play under a roof and that wouldn't be very nice.
Funnily enough, the time taken out of the game actually strengthens Sri Lanka's position. They might have lost 35 overs in the match but if they do take a lead of 100 or 120, they could put England in to bat in a position from which they can't win the game.
Unless there is an absolutely dynamic spell that skittles Sri Lanka out, I can't see England winning this, and there certainly haven't been any dynamic spells from England's bowlers over the last two days.
They were all a bit off colour yet again. Tall bowlers do make things happen and there was a bit there but they have to bowl more consistenly than that.
Indeed they were so poor that captain Andrew Strauss and Graeme Swann could not hide their frustration from the slip cordon.
I don't like to see a fielder like Swann gesturing in despair because he is a bowler himself and he bowls the odd bad bowl. But you could sense that all the fielders behind the wicket were frustrated because England could not press home their advantage.
They had taken a wicket with the new ball, they had opened the door. The plan had worked, they had a new batsman and a new ball, that is the time you have to try to strike, but they just didn't bowl well.
Maybe the infamous Lord's slope was a factor. It does cause a problem when you are bowling here, but then Steven Finn plays quite a lot of cricket here and the line he found to get Tillakaratne Dilshan out was perfect. But unfortunately for him, and for England, he just could not keep it up.
Although England's bowling was well below par, you have to give immense credit to Dilshan, who showed great bravery to keep playing after taking a blow on the same thumb.
And after the ignominy of Cardiff, the Sri Lanka skipper could not have done any more.
He showed great resilience and his team-mates have very much followed his example. The great thing for Dilshan is that whenever a batsman is named as Test captain people worry that it will affect his form, but he has put that argument to bed and he won't have any of that pressure for a while.
He can just concentrate on being captain and opening the batting. That is a big bonus for him.
Listen to Jonathan Agnew and Geoff Boycott's review of each day's play on the TMS Podcast page