West Indies to play at Cardiff, not Lord's, in 2012
By Sam Sheringham
BBC Sport
Last updated on .From the section Cricket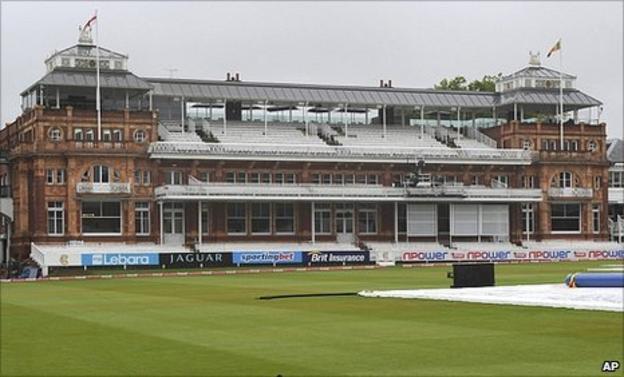 The West Indies are set to become the first international team not to play a Test match at Lord's during a series in England, BBC Sport has learned.
The Caribbean side will play Tests at Edgbaston, Trent Bridge and Cardiff in 2012 after Lord's owners Marylebone Cricket Club (MCC) were outbid.
"We were expecting to have a West Indies Test in May or June," John Stephenson, the MCC's head of cricket told BBC Sport.
"That Test match has gone to Cardiff."
Stephenson continued: "It is disappointing for us and it is disappointing for the West Indies players. Our members are very upset."
With the England and Wales Cricket Board (ECB) still to officially release the Test schedule for next year, Glamorgan chairman Paul Russell said that he did not yet know if Sophia Gardens would host the West Indies.
"We have heard nothing at all either from the MCC or, more importantly, the ECB," he said.
An ECB spokesperson was not immediately available for comment.
Commonly referred to as the home of cricket, Lord's has been staging Test matches since 1884 and traditionally hosts two of England's five-day games each summer.
Former West Indies fast bowler Colin Croft, who played against England at Lord's in 1980, said the decision would deprive a generation of players from the Caribbean of the opportunity to play in one of the world's most prestigious arenas.
"Lord's is renowned around the world as the Mecca of cricket," Croft, who took 125 wickets in 27 Tests, told BBC Sport. "Whatever international team you play for you want to come to play at Lord's.
"It is especially sad and disappointing for young cricketers like [West Indies batsman] Darren Bravo, who have not played cricket in England before.
"It is disappointing, but it is all about finances these days."
The MCC makes a profit of around £1.5m from a successful Test match and losing out on the fixture could be financially damaging to an organisation which posted a loss of £2.4m in 2010.
Test matches for the summers of 2010, 2011 and 2012 were allocated following a process of sealed bids to the ECB.
That system has since been scrapped and grounds must now bid for packages of international games.
Stephenson is hoping there is time for a rethink, especially after last week's Cardiff Test between England and Sri Lanka was blighted by poor weather and low attendances.
"We are hoping things might unravel," said Stephenson. "There is no method of appeal, But you never quite know what might happen between now and then.
"I'm just speculating but you see what happened last week [in Cardiff], what has happened here and what might happen at the Rose Bowl [in next week's third Test]. I think there might be a rethink, but I really can't say whether there will be.
"The members are very upset. I think they understand what the bid process has thrown up. It is just a bit of a quirk for next year.
"There is nothing to say that Lord's should have a god-given right to stage two Test matches every year.
"There are a lot of venues and only so much international cricket and I understand why people want to spread it around the country.
"But I think people want Test matches at Lord's and I think countries that come here to play Test cricket want to play here at well."