Murtagh and Azhar lead Lord's carnage
Last updated on .From the section Counties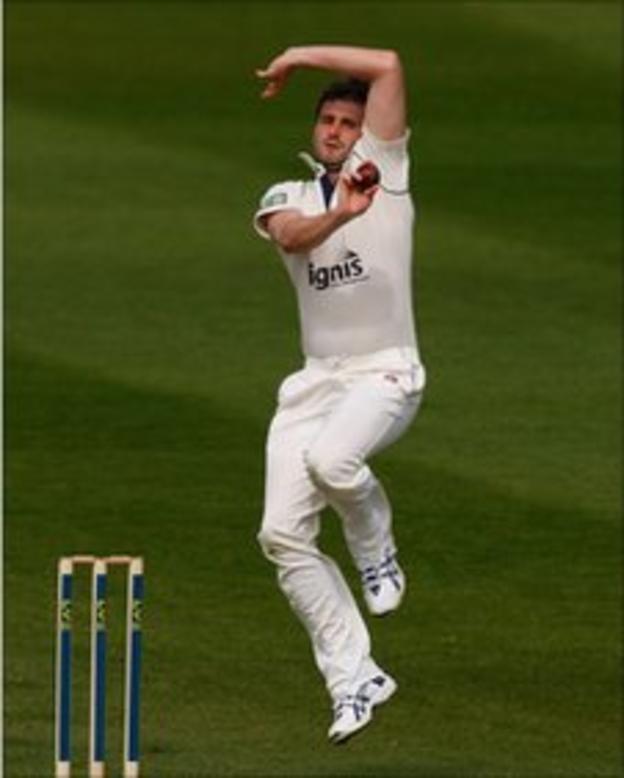 An astonishing 23 wickets fell in the day at Lord's, rival pacemen Tim Murtagh and Azhar Mahmood leading the carnage with six scalps apiece.
Murtagh took 5-27 as Kent were bowled out inside 32 overs for just 87.
Azhar, Kent's top scorer with 32, led the response, taking 6-36, as Middlesex were bowled out for 153 - a lead of 66.
Murtagh then struck again, while Steve Finn took two wickets, including visiting skipper Rob Key first ball, as Kent closed on 46-3, still 20 behind.
Key, Sam Northeast and Martin van Jaarsveld were all out twice in the same day, for a combined 20 runs between them as Middlesex's decision to put Kent in on a green pitch paid off.
To comply with their guideines, umpires Nigel Llong and Steve Garratt will have to autmatically give an account of the day's dramatic events to the England and Wales Cricket Board, as more than 15 wickets fell on the first day.
And an ECB pitch officer will also attend on the second day to investigate the surface before any further decisions are taken on what, barring bad weather on Monday, looks almost certain to prove a two-day fixture.
The umpires indicated their concern, as Azhar in particular exploited the still seaming conditions throughout a sunny late afternoon.
But Garratt said that the overcast conditions in the opening session, in which Kent were reduced to 48-7, were as helpful to the Middlesex seamers as the well-grassed surface.
Play did not begin until noon, following the FL t20 match played between the two sides under the new Canterbury floodlights on Saturday evening. And a long day did not end until 8.15pm.
By then, Kent, who Saturday night's FL t20 clash despite having slumped at one stage despite having been 21-6, again found themselves looking at a similar scoreboard - 22-6 after just an hour's play.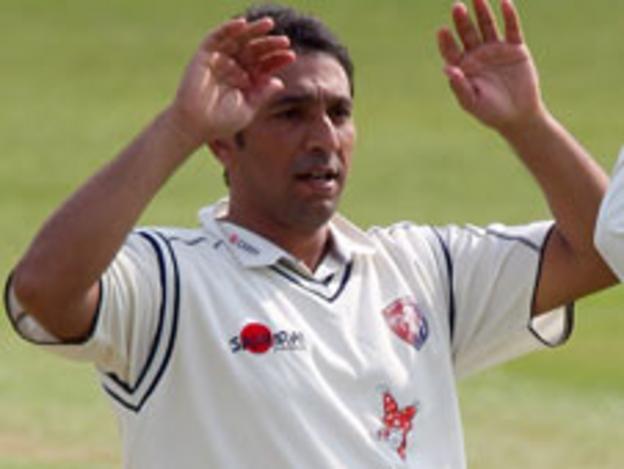 But Azhar, coming in at number eight after James Goodman became the second of three Kent first-ball first innings ducks, hit out defiantly.
Azhar's late hitting was ended by a scythed catch to third man, and, despite the loss of Scott Newman, bowled off a thin inside edge by Shaw for 22, it seemed as if Middlesex were moving into complete control at 76-1.
But Azhar, in a long spell from the Pavilion End either side of tea, bowled Kent back into the game to return his best first-class figures for the county.
When Kent batted again, Key became his side's fourth first ball duck victim of the day, thin-edging a defensive prod against Finn to the keeper.
Northeast then top-edged a hook at the England fast bowler to long leg before Van Jaarsveld became the 23rd and final dismissal of a bizarre day when he edged a leg-cutter from Murtagh to first slip.
CLOSE OF PLAY SUMMARIES
BBC Radio London 94.9's Kevin Hand:
"An unbelievable first day, that can be attributed to a bowler friendly pitch with pace and movement, poor batting and the disastrous scheduling of a Twenty20 at Canterbury finishing late on the eve of the match.
"Steven Finn, Corey Collymore and Tim Murtagh were a delight to watch, then Middlesex's reply started well only to collapse under some controlled bowling from Azhar Mahmood.
"But there were some questionable shots along the way. There is no way that 23 wickets should have fallen on that track and the batsmen must shoulder a sizeable share of the blame."
BBC Radio Kent's Matt Cole:
"An extraordinary day's cricket. Kent's early collapse was eerily reminiscent of their early crumble against Middlesex in the Twenty20 game the night before. This time however there was no inspired comeback.
"The wicket certainly gave help to the bowlers, but it wasn't what you'd call a minefield. Having said that, no batsman looked entirely comfortable all day.
"There was a lot of talk about whether the two teams were mentally tired from the late finish at Canterbury the night before."