Jonathan Agnew column

By Jonathan Agnew
BBC cricket correspondent at the Rose Bowl
Last updated on .From the section Cricket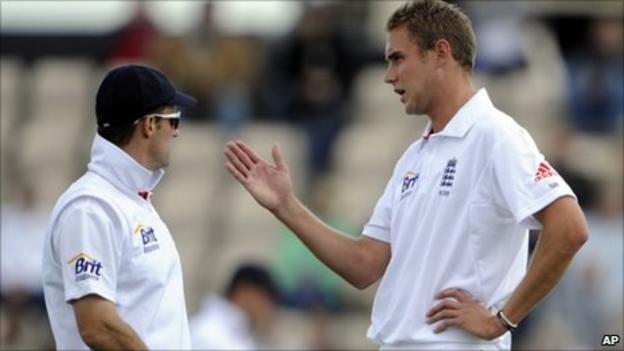 England have to be honest about their bowling because in 38 overs in very helpful conditions, they should have taken more than four wickets on the first day of the third Test at the Rose Bowl.
The spotlight will rightly fall on Stuart Broad, who really is struggling at the moment because his head is not in the right position when he bowls.
When you are bowling fast, the head leads the way, and as soon as it starts leaning towards the left shoulder, it takes everything with it, knocking you off line.
He really seems to be in a bit of a trough at the moment. It is a technical issue he is going to have to get right and he might need England bowling coach David Saker to help him with that.
Maybe everything will come good for Broad when play resumes on Friday. Sometimes all it takes is a wicket and everything clicks - it is just that little boost that you need.
But if he does not get it right before the end of this Test, he is going to be under some serious pressure for his place.
It does seem very hard to drop people these days, but if England are only playing four bowlers they all need to be performing. There is nowhere to hide and you can't afford to carry anyone.
Broad is lucky in a way because this is the end of the series. He could play well in the one-dayers and Twenty20s and by the time the selectors look at the team for the India Tests he might be taking wickets again. But there is competition around, with Steven Finn, Graham Onions and Tim Bresnan waiting in the wings.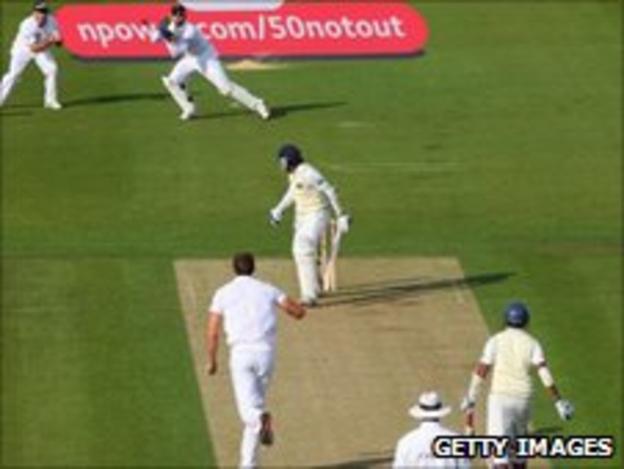 Given his lack of form, I really don't understand why Broad is given the new ball ahead of Chris Tremlett. They must have some sort of reason for that but I don't understand it, unless they are trying to bolster Broad's confidence or something.
Tremlett took the new ball in Australia, when he made such an impact on the Ashes series, so he clearly likes to do so. And when you think about which of the two most batsmen would rather not face, there is no contest.
Tremlett is a horrible proposition for batsmen at the moment, with plenty of balls aimed at the throat, and his delivery to Mahela Jayawardene was the ball of the summer, an absolute beauty.
I'm really pleased that Hampshire have produced a pitch with a bit of life in it. I was worried it was going to be a featherbed with draw written all over it but it has some juice and bounce and there could be some sparky cricket in the next few days.
It is just a shame for the organisers down here who have been waiting three years for this day to arrive, only to have it blighted by rain.
Having said that, I cannot understand why we had to wait so long for play to resume when the weather cleared late in the afternoon and the ICC really has to do something about this.
It is all very well to give the players time to loosen up but you don't need 25 minutes. The whole question of playing in less than perfect conditions has to be looked at.
When the ticket prices are as high as they are, it is only right that people should expect value for money and they could easily have had a few more overs.
Listen to Jonathan Agnew and Geoff Boycott's review of each day's play on the TMS Podcast page