James Harris wants Simon Jones to make Glamorgan return
Last updated on .From the section Cricket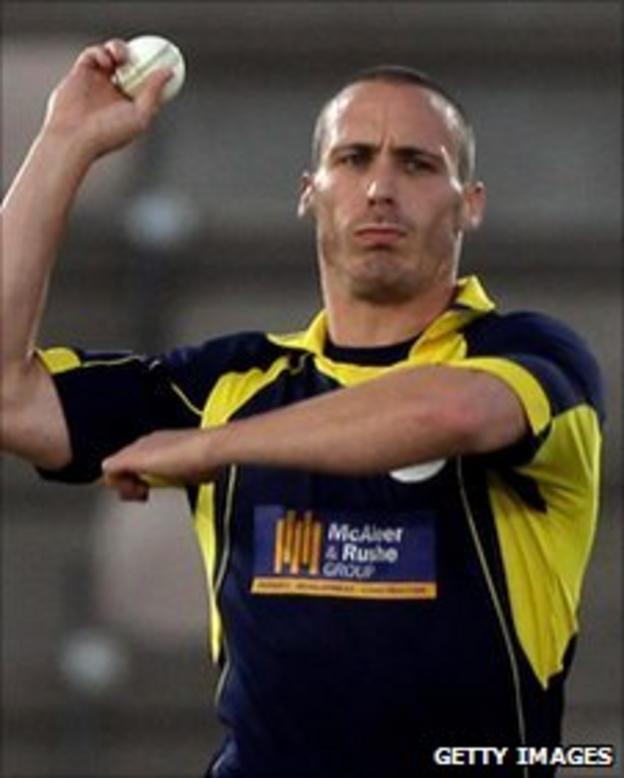 James Harris hopes old mentor and former England fast bowler Simon Jones returns to Glamorgan as the pupil wants to repeat Jones' international heroics.
The Welsh county are in discussions with Hampshire to sign the 32-year-old paceman on loan - and star alongside Harris in Glamorgan's bowling attack.
"To have someone of Simon's calibre and quality would be fantastic," he said.
"What he has done in big games like the Ashes is great and that is something I'd possibly like to do in the future."
Jones topped England's bowling averages in the memorable 2005 series triumph over Australia - England's first Ashes victory for 18 years.
But the Welshman's career has been blighted by a succession of knee injuries, which have required career-saving reconstruction surgery.
Jones' injury problems began in 2002 when he ruptured an anterior cruciate ligament in the first Test of the Ashes series in Brisbane.
Harris, ironically, is currently sidelined with knee trouble but despite Jones' injury record the England Lions seamer hopes the Glamorgan cult hero comes back to Wales.
"Simon is a Welsh lad through and through and it would fantastic to have him back," said Harris, Glamorgan's leading wicket-taker last season.
"Simon was a big role model for me, I spent quite a bit of time with Simon in the first year or two when I started to break through into the Glamorgan team.
"We'd talk a lot about bowling and he was a great influence, we still talk so it would be good for me personally if he returned.
"It would be fantastic to have a player with that experience around."
Harris and Jones played in the same team during the 21-year-old's first professional season before Jones ended his nine-year Glamorgan career in 2007.
But the Llanelli-raised seamer has recently bemoaned his lack of games at Hampshire and both clubs are in negotiations that could see Jones back alongside Harris in the Glamorgan attack.
Coach Matthew Mott wants Jones to help inspire Glamorgan to County Championship promotion after missing out last year.