Marshall left out of Irish squad for financial reasons
Last updated on .From the section Cricket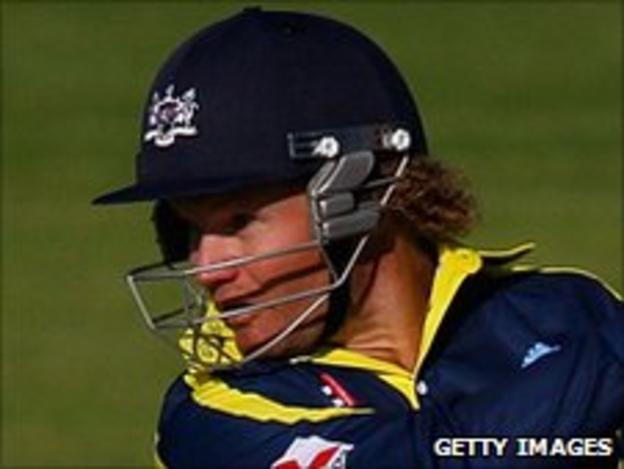 Ireland have overlooked former New Zealand batsman Hamish Marshall for the Tri-Series against Sri Lanka and Scotland for financial issues.
Marshall is eligible but has been left out because his appearance would result in compensation being paid to his county Gloucestershire.
His status affords Gloucestershire payments from the ECB that would stop once he appears for Ireland.
Ed Joyce has been left out of the Ireland squad "for personal reasons".
"Although Hamish has declared for Ireland, he has at the same time become technically qualified for England," Cricket Ireland chief executive Warren Deutrom said.
"Irrespective of his international playing preference, his nominal England qualification releases significant payment to Gloucestershire from the ECB and playing for Ireland in the upcoming matches would jeopardise these payments, which would be unreasonable on Gloucestershire within a budgetary cycle.
"Since Cricket Ireland, for a similar budgetary reason, is unable to compensate Gloucestershire for their financial loss, Hamish's ability to play for Ireland in the short-term will remain under review.
"We shall remain in consultation with Hamish, Gloucestershire CCC and the ECB over the coming weeks to determine how best to resolve the matter."
With Marshall's future still unresolved, Ireland have named 12 of the 15-man squad that played at the World Cup earlier this year.
Spinner Albert van der Merwe is ruled out because he is still recovering from an elbow injury he suffered in training during last month's 2-0 series defeat to Pakistan in Belfast.
Van der Merwe's absence is offset by the return of young spinner George Dockrell while wicketkeeper-batsman Niall O'Brien will miss the second game against Scotland on 12 July to return to Northamptonshire.
The Irish have selected five uncapped players in their squad for the Intercontinental Cup match against Namibia at Stormont.
Teenage Gloucestershire seamer Graeme McCarter, wicketkeeper/batsman Stuart Poynter, all-rounder Stuart Thompson, opener Niall McDonnell and Brigade player Chris Dougherty are all named.
Ireland play their Intercontinental Cup game against Namibia at Stormont from 28 June to 1 July, with the two one-day internationals against the same opposition to follow at the same venue on 4 and 5 July.
The Irish play Scotland in Edinburgh on 12 July and then Sri Lanka a day later.
Ireland squad for Intercontinental Cup game with Namibia: T Johnston (capt) (Railway Union), A Cusack (Clontarf), G Dockrell (Somerset), C Dougherty (Brigade), J Mooney (North County), G McCarter (Fox Lodge/Gloucestershire), N McDonnell (Strabane), K O'Brien (Gloucestershire), A Poynter (Clontarf), S Poynter (MCCYC), P Stirling (Middlesex), S Thompson (Limavady), A White (Instonians).
Ireland one-day squad for Namibia and Tri-Series with Scotland and Sri Lanka: W Porterfield (capt) (Gloucestershire), A Cusack (Clontarf), G Dockrell (Somerset), T Johnston (Railway Union), N Jones (Civil Service North), J Mooney (North County), G McCarter (Fox Lodge/Gloucestershire), K O'Brien (Gloucestershire), N O'Brien (Northants), A Poynter (Clontarf), B Rankin (Warwickshire), P Stirling (Middlesex), A White (Instonians), G Wilson (Surrey).