Jonathan Agnew column

By Jonathan Agnew
BBC cricket correspondent at the Rose Bowl
Last updated on .From the section Cricket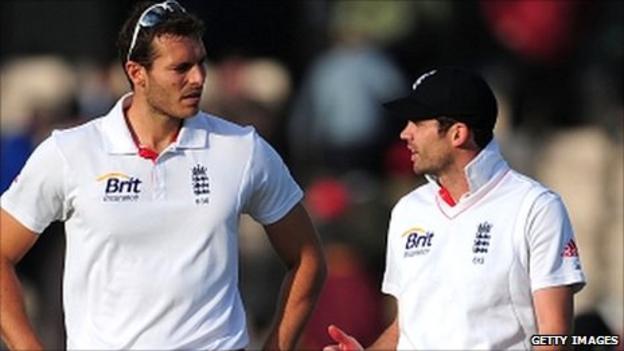 Chris Tremlett is getting better and better and he was head and shoulders above the rest again on the second day at the Rose Bowl.
He is well on the way to becoming a truly superb Test bowler and, as soon as England see sense and hand him the new ball, his partnership with James Anderson could become one of the most potent in the game.
They really are a great combination because Anderson is naturally an into-the-wind bowler who swings it, and Tremlett is a downwind bowler who gets plenty of bounce from the pitch.
Tremlett is not particularly fast. He bowls at about 85mph, whereas someone like Sri Lanka's Dilhara Fernando bowls at 90 mph, but he does get that nasty bounce and he hurts people.
The Sri Lankans were not backing away from Anderson and Stuart Broad in the way they were backing away from Tremlett. He has got something. He gets it in around the ribs and that is very awkward.
I also like the way he goes about his business in a very unassuming way. He has got all the attributes of a top-class fast bowler but he doesn't go around shouting about it very much.
The worry remains Broad, who is lucky that there isn't a Test match next week because I really don't think he would be picked.
He has only taken 11 first-class wickets all summer at an average of 46 and it was clear from the field placings that Andrew Strauss has very little confidence in him at the moment.
Whereas Tremlett and Anderson had a ring of slips and gullies, Broad had several men on the boundary. You could just see that the captain knew he was struggling and was protecting him a bit.
Despite Tremlett's heroics, I think England really missed their chance when they had Sri Lanka at 117-7 - it should really have been 130 all out.
Apart from Prasanna Jayawardene, most of Sri Lanka's batsmen looked like they just didn't fancy it, and I don't think coach Stuart Law will be at all happy about their lack of application.
But they were let off the hook to an extent by some erratic England bowling and, with more rain forecast, they may yet escape with a draw in this game.
If England do get well beyond them on Saturday and declare around lunchtime on day four, there is still a chance they could get something out of the game, but I don't think Strauss will be hugely adventurous. England will be happy just to win the series.