Hampshire's Simon Jones relishing Glamorgan loan spell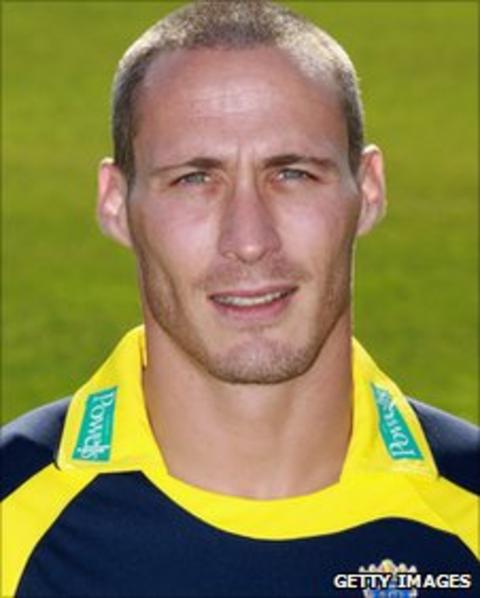 Former England paceman Simon Jones has said he is delighted to have rejoined Glamorgan on loan from Hampshire.
The 32-year-old confirmed the one month loan deal following Glamorgan's washed out Friends Life T20 match against Hampshire at Swalec Stadium.
Jones, left out of Hampshire's side in Cardiff, has recently bemoaned his lack of games for the county.
"It is a strange feeling but it's one I need to do. I just want to play some cricket," said Jones.
"I've not been getting a gig with the T20 format with Hampshire.
"They've picked the side who they think is going to do their best in the competition and that is fair enough.
"I've just got to keep on working like I have "
Under the terms of the loan deal Hampshire can recall Jones at any time during his one month spell with Glamorgan.
The player, who starred in England's Ashes triumph in 2005, returns to Glamorgan having left for Worcestershire in 2007.
Two years later he switched to Hampshire, where has 18 months remaining of his current contract.
But the Llanelli-raised fast bowler has been frustrated at his lack of first-team action this season having played just one County Championship and five CB40 matches.
And former county Glamorgan have beaten off competition from other counties to re-sign Jones on a loan deal.
"Glamorgan have come in for me and it's great for me to have a chance to play in some T20 cricket and hopefully I can do well," added Jones.
"I've not worked two years in the gym to be sat on the sidelines. I'm looking forward to getting back on the pitch.
"Hopefully [I] will grab it with both hands and do well for Glamorgan.
"I want to perform as well as I can for Glamorgan and hopefully help their cause.
"We're in the competition to win things, so hopefully we'll do well."
Jones, who has been troubled by a series of knee injuries, said he was not looking beyond his one month loan deal.
"We're just going to play it by ear for now and see how things go," added Jones.
"I've still got a year left on my contract with Hampshire and I just want to play some cricket."