Jonathan Agnew column

By Jonathan Agnew
BBC cricket correspondent at the Rose Bowl
Last updated on .From the section Cricket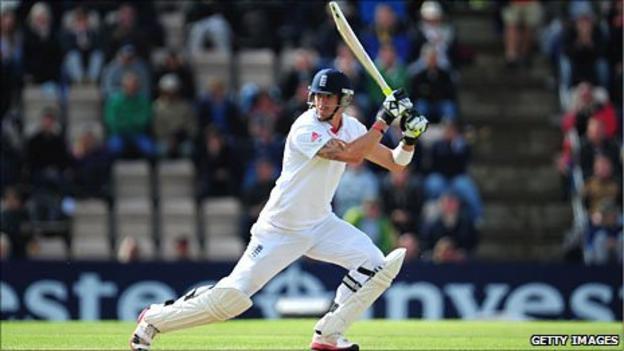 There are two main talking points from Saturday's play - one superb on the pitch, and one less so off it.
People who were at the Rose Bowl will certainly be chuntering about what happened with tea being taken when the rain had stopped, and then the rain returning just as play was about to start.
There is certainly some justification for how they feel. The umpires have admitted they got it wrong, which is big of them - the reality is that if they had taken the teams off for tea earlier it would only have saved 10 minutes, but the important thing is the message sent out by what happened.
If you have to abandon tea to make sure the spectators get their value for money, then that should be what you do. It was the worst possible day to stage a game of cricket. The mood of the crowd was not helped by the frustration of seeing the covers going on and coming off all the time, but there has to be some application of common sense about these things.
After all the delays, however, those fans who stuck it out were treated to a lovely innings by Kevin Pietersen - it was his best since Adelaide, with 70% of his runs coming from shots hit straight down the ground, which is indicative of how well he plays when he plays straight, rather than this calypso flick, leg-in-the air stuff.
The icing on the cake would have been if he could have battened down the hatches for the last few minutes and thought 'I will come back and get 100 tomorrow'.
That would have been the most obvious sign that he was thinking outside his own particular box, but I am not going to criticise anything he did or how he got out.
He was playing for the team and it was a flawless innings. He has helped set up the possiblity of England winning the game, which they could still do even though the weather appears to have ruined the game.
It was also a very good innings from Alastair Cook and, beacause of Pietersen, he probably will not get much of a look-in on the headlines.
Cook is aware that he could have pressed on a bit more at Lord's, where he came in for some criticism, but he has taken it on the chin and decided he wants to be more positive.
He played some great shots today, some of which reminded me of David Gower, and like Pietersen he was playing for the team, and that is how he perished - he was out to a shot he would not normally have played.
It is good to see England trying to get on with winning the game despite the momentum of the game lurching around so much because of the weather.
You have to say it is entirely Sri Lanka's fault that England think they can still win this game - the way they batted in their first innings was poor, and they clearly did not fancy facing Chris Tremlett.
The tourists look distracted and do not seem focused, and their bowling has always lacked penetration but I thought they might have been more menacing in these conditions.
When you have a batting side who are playing positively, it is amazing how the ball seems to stop moving. Once the bowlers start to feel intimidated, the magic of the ball stops working. That is certainly how it was here, so credit to England for bringing that about.