Herefordshire look to bounce back in Shropshire derby
Last updated on .From the section Cricket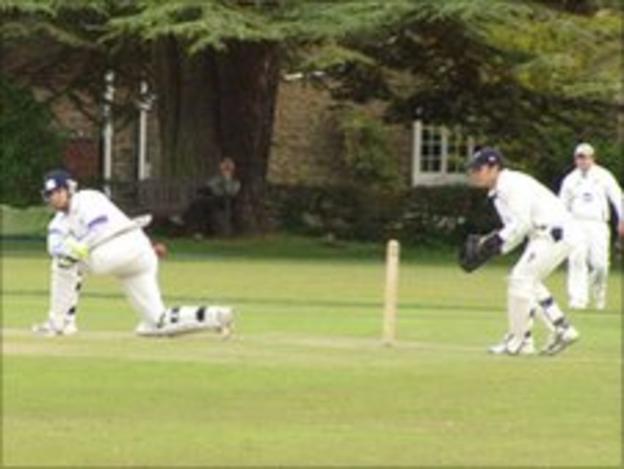 Herefordshire will return to Minor Counties Championship action on Sunday when they will take on Shropshire at Bridgnorth.
Chairman of selectors Ernie Morgan says the team need a lift after their MCCA Trophy exit against Cumberland.
"Everybody was very disappointed after that one and they sat in the dressing room for a long time after that one," he said.
"It did hit everyone pretty hard but it is another day and another game and I am sure they will be up for it."
Herefordshire were in a very strong position in that match against Cumberland but a fine innings of 106 from Garry Pratt took the game away from them.
This came off the back of a two-day defeat by Cheshire in their opening Championship match at Colwall and Morgan accepts the side could do with a win.
"Shropshire are always a strong side and we are playing at Bridgnorth which is usually a good wicket to bat on so hopefully we can get some runs," he said.
"We are a bit underpowered in the bowling attack - we have got a lot of batsmen but could have done with one or two more bowlers.
"Getting 20 wickets in this game might prove a little difficult for us but we will give it our best shot," he added.
Herefordshire are without left-arm spinner Charlie Griffiths who is unavailable while Ted Bayliss also misses out due to a knee injury.
Oxford University player Charlie Walker is set to make his debut for Herefordshire as a batsman who bowls off-spin.
Morgan stresses everyone in the Herefordshire camp is desperate to avoid what would be an unwanted hat-trick of defeats.
"It is important that we avoid defeat in this one as we certainly don't want to end up with a succession of losses," he said.
"This is particularly so as our next match is against a Berkshire side that has a lot of money and a lot of former professionals playing for them.
"This is definitely a game in which we have to try and get something."