Ireland hopes increase of securing World Cup lifeline
Last updated on .From the section Cricket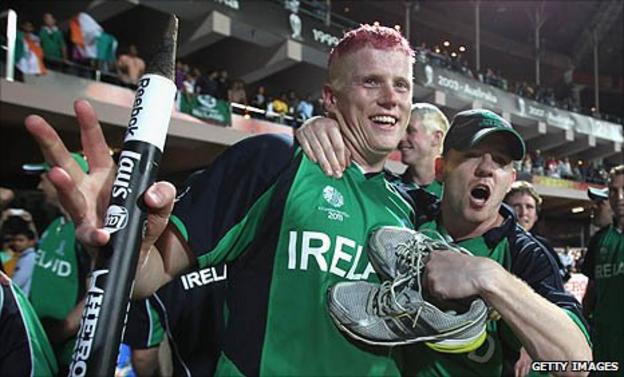 Ireland have moved a step closer to securing the chance to play in the 2015 World Cup.
The ICC Chief Executives' Committee has recommended that there should be a qualification process for the event in Australia and New Zealand.
A final decision will be taken by the ICC Executive Board in Hong Kong in the next two days.
There was an outcry in April when the ICC decided to restrict the 2015 competition to the 10 full members.
Two weeks after the initial decision, ICC president Sharad Pawar responded to vociferous dissatisfaction among the associate and affiliate nations by requesting the executive board look again at the structure of the tournament.
Apart from Ireland, who beat England in 2011 and Pakistan at the 2007 World Cup, the other nations outside the ICC's full members to take part in the 2011 event were Kenya, Canada and the Netherlands.
Ireland coach Phil Simmons described the ICC's move in April as a "great day for greed and fear".
He added: "It is hard to find words to describe this despicable decision made by some who want to keep things among themselves and some who fear us.
"There can be no cricketing reasons for this decision, as we answered the cricket question, the television rating question, and we are 10th-ranked nation in the world - so what else is needed?"
The ICC Chief Executives' Committee did not make a recommendation to the ICC Executive Board on the number of teams that should compete in the 2015 tournament.