England announce tour schedule to India, UAE & Sri Lanka
Last updated on .From the section Cricket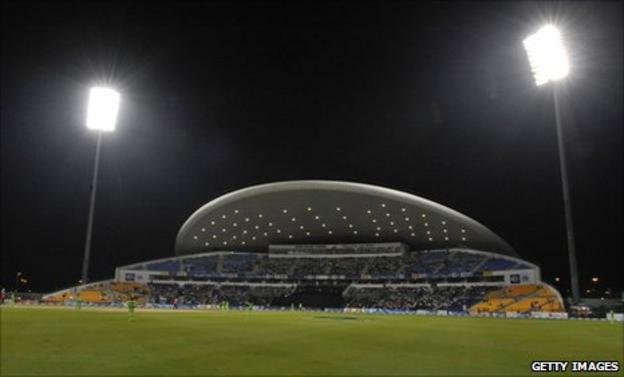 England have announced their winter tour schedule, which includes Tests against Pakistan in the United Arab Emirates for the first time.
The tour begins on 4 October, with
England then face Pakistan in Dubai and Abu Dhabi, where they have played at "home" for security reasons, for three Tests, four ODIs and three T20 games.
The tour moves to Sri Lanka in March for two Tests, finishing on 7 April.
There will be no one-day matches in Sri Lanka, but England will be back in the country during 2012 for the ICC World Twenty20 and will return again for a programme of one-day internationals in late 2014.
A detailed itinerary for the UAE leg of the tour against Pakistan, to take place in January and February 2012, will be announced in the near future.
Pakistan have not played any full international matches in their own country since March 2009 when the Sri Lanka team's tour bus was attacked by gunmen in Lahore, and they have since played "home" games in the UAE, England and New Zealand.
England have appeared in limited-overs matches in the UAE before, including two Twenty20 games against Pakistan in February 2010, but never a Test.
Dubai and Abu Dhabi became the 102nd and 103rd venues to stage Test cricket when Pakistan hosted South Africa later in 2010.
Commenting on the Indian leg of the tour, England & Wales Cricket Board chief executive David Collier said: "We are very pleased to have agreed an itinerary with BCCI [Board of Control for Cricket in India] for the forthcoming one-day series which includes matches in India's major cities and will suit the needs of both the England team and our travelling supporters.
"With India due to play here in September, there is bound to be intense interest in the return contest in India this October and we look forward to what should be a fascinating series of one-day encounters between the two teams.
"The remainder of the winter programme will see England travel to UAE early in the New Year to play Pakistan in all three formats of the game followed by a short break in the UK before the team takes on Sri Lanka in a two-match Test series."
Meanwhile, the International Cricket Council has published its new Future Tours Programme, running until April 2020, after announcing on Tuesday that the schedule had been ratified by its executive board.
ENGLAND TOUR OF INDIA
4 October:
Arrive in Hyderabad
8 October:
50-over warm-up match, Hyderabad (Gymkhana)
11 October:
50-over warm-up match, Hyderabad (Gymkhana)
14 October:
1st one-day international, Hyderabad (Rajiv Gandhi International Stadium) (d/n)
17 October:
2nd one-day international, Delhi (Feroz Shah Kotla) (d/n)
20 October:
3rd one-day international, Mohali (d/n)
23 October:
4th one-day international, Mumbai (Wankhede Stadium) (d/n)
26 October:
5th one-day international, Kolkata (d/n)
29 October:
Twenty20 international, Kolkata (d/n)
PAKISTAN v ENGLAND (IN UNITED ARAB EMIRATES)
Three Tests, four ODIs and three T20 internationals, dates and venues TBC
ENGLAND TOUR OF SRI LANKA
Dates TBC:
Warm-up games (venue TBC)
26-30 March:
1st Test, Galle
3-7 April:
2nd Test, Colombo (stadium TBC)