ICC stands firm on 12-team World Twenty20 format
Last updated on .From the section Cricket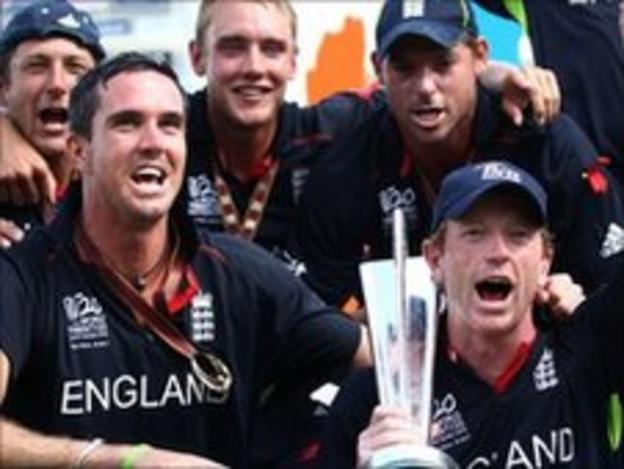 The World Twenty20 tournament will remain a 12-team competition, despite protests from non-Test playing nations.
It was thought the competition would be expanded to 16 nations, but the International Cricket Council decided to stick with the 12-team format.
Associate members at the ICC's annual conference pushed for a rethink when the decision was announced on Tuesday.
"The ICC acknowledges the associate members' disappointment," said ICC chief executive Haroon Lorgat.
"But 14 teams in the [50-over] World Cup and 12 teams in the World Twenty20 is a return to the current format for ICC events."
The qualification process for the ICC's associate members to join the 10 Test-playing nations in the 2012 tournament has already begun.
That will conclude with a 16-team competition in the United Arab Emirates early next year, with Scotland and Ireland entered automatically.
However, those 16 teams will now be vying for two spots in the World Twenty20 in Sri Lanka, instead of the six that were previously thought to be up for grabs.
The ICC's decision not to expand the World Twenty20 is in contrast to the U-turn on their plans to cut the 50-over World Cup.
It was planned that the 2015 event in Australia and New Zealand would only include the 10 full members, but now four spots are available to the associates.
An ICC statement said: "The associate and affiliate members, while welcoming the return to a 14-team format for the ICC Cricket World Cup 2015, expressed some disappointment at the decision to maintain a 12-team ICC World Twenty20 in 2012 (Sri Lanka) and 2014 (Bangladesh)."
But Lorgat argued that the decision to maintain the 12-team format in the World Twenty20 would not have an adverse impact on the growth of the sport.
"We know that development is central to the ICC and our new strategic plan 2011-15 is designed to build a bigger, better global game," he said.
Lorgat also defended the decision to abolish the use of runners in international fixtures, suggesting that some batsmen have used them to gain an unfair advantage.
"There has been a strong feeling that runners were used not in the right spirit," he said.
"It's quite a difficult one for umpires to determine whether there has been a real injury to batters or whether it was a tactical use of runners."