England's Alastair Cook eager to bounce back after loss
Last updated on .From the section Cricket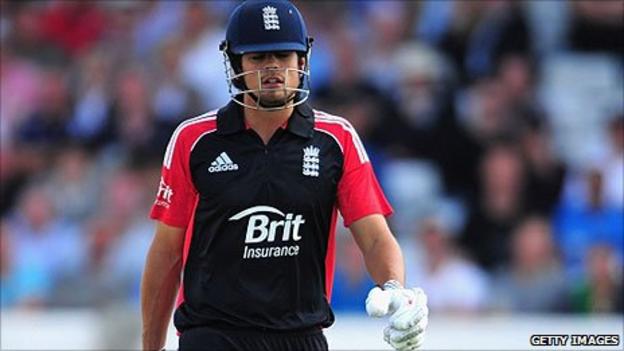 Alastair Cook says England will have to sharpen their skills for Sunday's third one-dayer after a superior Sri Lanka side won by 69 runs at Headingley.
England won the toss and opted to bowl first but a slopppy day in the field allowed Sri Lanka to pile on 309-5.
"Maybe in hindsight we got the toss wrong, but the crux of the matter is our skills," said England's captain.
"The challenge for us is to bounce back quickly and I'm confident we have the characters in our side to do that."
Cook added: "It was slightly strange. The fielding standards were good for a lot of the time but then we had little slips which we have tried to eradicate.
"You always want more bowling options but it was good enough for us the other day. We need a quick turnaround."
Questions will again be asked about the balance of England's batting side, with Jonathan Trott and Ian Bell occupying roles at numbers three and six when more aggressive players may be better suited to those positions.
Cook admitted: "A lot of our batters got in but didn't go on and get a hundred like Mahela Jayawardene did and effectively won them the game.
"We didn't hit our straps as we would have liked.
"We fancied chasing, it's quite a hard ground to defend and a lot of edges can fly downhill. That was part of the reasoning to chase.
"The toss didn't make that much difference, our skills let us down at times."
Former skipper Jayawardene hit a terrific 144 and said afterwards: "I'm enjoying being an opener, no pressure, I don't have to be too aggressive.
"To get 309 was a bonus at the end. We knew we could attack certain bowlers. And we rode a bit of luck in between."
And captain Tillakaratne Dilshan added: "We wanted to bat first. It was a good wicket, and we wanted to get some runs and put the pressure on the chasing side."
Dilshan also hinted that 34-year-old Jayawardene, opening the innings following Sanath Jayasuriya's international retirement and would be rested from some one-day internationals in order to prolong his career.
"We are looking at Mahela opening in some games but resting from others and play for another three or four years," he explained.
"He can't play all the matches in the next three or four years.
"We can bring another opener into that position. We have to rotate that position and give a chance to youngsters."
Young opener Dimuth Karunaratne, 23, is in the ODI squad but is awaiting his international debut
The series is tied at 1-1 with the third game of the five-match series at Lord's on Sunday.